Dan Mocanu, Moldova
BA International Relations and Organizations & BA Philosophy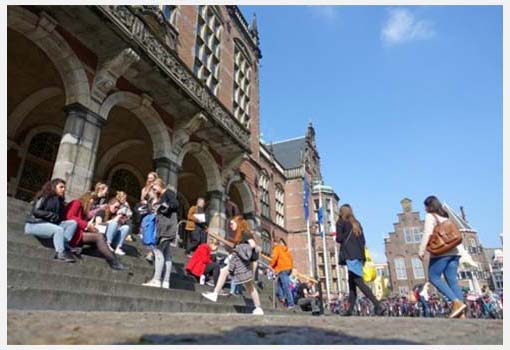 Groningen as Alma Mater
Groningen has been the name of a city; now it is the name of a story. What started with the inescapable trivialities of getting a bike, renting a room, and navigating through labyrinthine technicalities has gradually evolved into a mind-expanding experience at the confluence of an amalgam of nationalities, backgrounds, and mindsets. In the academic enclave of the University of Groningen, I discovered an institution committed to rigorous intellectual inquiry, guided by a pluralistic spirit, a home for creative and progressive thinking, and a space for critical engagement with global issues across geographies, disciplines, and narratives.
In 2015, I started my undergraduate studies in the International Relations and International Organisation programme. In this holistic and pluri-disciplinary programme, I have been successfully trained - both theoretically and methodologically - to further pursue the set of problématiques that drive me intellectually.
Along my studies, apart from the commitment to excellent research and instructive teaching, my faculty actively cultivated in our classrooms reasoned debate, principled dissent, and incisive collaborative engagement with various issues. The university prepares students to understand, adapt to and respond to contemporary challenges, providing an inclusive and multicultural environment where boundaries are continuously contested and redrawn through creative exploration, informed conversations, and world-class scholarship. Groningen offers a platform where academic experience is not only about getting an education, but also about acquiring a self, fostering an independent mind, building personal networks, and cultivating an active stance towards the daunting problems of our globalized age.
Apart from its classrooms and libraries, Groningen's streets, buildings, cafés, parks, and canals provide the coordinates for a true journey of experimental self-discovery. In this context, Dutch students have proved to be great facilitators in exploring the local culture, showing empathy and receptiveness. The cultural mosaic of the city has enriched my student experience, intercultural storytelling becoming a tool for deepening and nuancing the understandings of others, but also for mediating my own self-understanding.
For questions, please do not hesitate to contact me.
Biography
Dan is a third year student in the International Relations and International Organisations programme of the Faculty of Arts. He is also about to graduate from the Faculty of Philosophy with a degree in philosophy of the humanities. His main academic interests are: theories of international relations, global governance, critical theory, and post-Soviet and postcolonial studies.
| | |
| --- | --- |
| Last modified: | 11 July 2019 12.58 p.m. |