Bayu Laksmana, Indonesia
Bachelor International Business 2018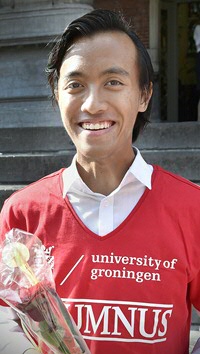 Why the University of Groningen (UG)?
Back in 2014, I was accepted in the double degree program in Universitas Indonesia. As a student who just graduated from high school, I was super excited and knew that in I will continue the other half of my college abroad. There were some options ranging from Australia, UK, and the Netherlands. As I finished my second year of college back in Jakarta, I eventually made a decision that I will go to the Netherlands. The program that Groningen offers perfectly matched with my interest. Not to mention, who does not want to study at the top 100 world university. After spending 2 years of my study here, I realised that I made the right decision and the university has developed me in so many different ways. The campus is equipped with the best facilities such as all the computer labs, state of the art lecture hall, and sport facilities, which you can find in ACLO.
Groningen – The Best Dutch Student City
Born and Raised in the Indonesian capital of Jakarta, which is a huge metropolis with over 10 million inhabitants, I was worried at the beginning whether I could adapt to live in Groningen that I consider tiny. Indeed, at the beginning it felt weird seeing that the only tall construction is a centuries old Martini tower and how quiet the city could become when it gets dark in the evening. However, I learned that this new environment is something that makes Groningen unique. As a student, I feel that Groningen has everything to offer. From the campus, which is a stone's throw away from the city centre, bars and clubs that are easy to find, library that is right at the heart of the city, and many other things that a student could ask for. Now after 2 years, I really get the charm of Groningen, which I will not be able to find anywhere else. The bikes, the canals, the "strange" weather, and of course the people will always be the greatest memory of my college life.
Biography
Bayu pursued a double bachelor degree program of International Business at University of Groningen and Universitas Indonesia. He was active in his study association (EBF) in which he was part of two different committees in the last two years. He was also part of the Indonesian Student Association of Groningen. Besides the activities in Groningen, he was also part of the "United Netherlands" delegation which is a program accredited by Radboud University, Nijmegen. He did an internship in the Indonesian Central Bank back in summer 2017, which made him consider starting a career in banking or finance sector. Upon the completion of his studies, he will return to Jakarta to work first before continuing to a master program.
| | |
| --- | --- |
| Last modified: | 11 July 2019 12.58 p.m. |