Alka Rao, India
Master Molecular Biology and Biotechnology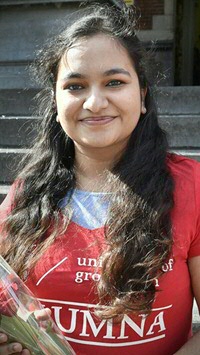 Why the University of Groningen?
Groningen is a small city but has a lot to offer for everyone. This includes a high quality of education offered by the University of Groningen (UG). Many people ask me why I chose this university. To be honest, I didn't know about the existence of the university until it was recommended to me by an acquaintance. I started searching on the Internet and discovered that the UG is a traditional research university which has an excellent research profile.
The university is alma mater to well-known physicists and Nobel laureates - Zernike and Bernoulli. And Prof. Dr. Feringa joined this list during my first year as a master's student. I remember the day clearly, I was following some research coursework in the lab and a PhD student burst through the doors exclaiming 'We have a Nobel prize!'. My fellow classmates, all new and excited master's students rushed to the reception to have a peek of him.
I chose the university because of the exemplary academy profile but I gradually started loving the relaxed yet challenging working environment. In my home country, I can't even picture sitting down with professors, research scientists and providing suggestions/critique as a master's students for the various research projects.
To top it all, I was completely awed by the simplicity of the Dutch people. As a master's student from the UG, we are expected to be independent and think critically. We even plan our own course works. This was very challenging for me in the beginning but the learning atmosphere coupled with the fact that I got advice from an amazing mentor made this possible. The city has a large student population and is very welcoming to various cultures. I learned a lot about several cultures after coming here, thanks to a very international student population. P.S. it gets more awesome, if you are a DnD geek, find yourself a group, they are very common here.
Biography
I am Alka Rao, pursuing a master's in Molecular Biology and Biotechnology at the UG, born and brought up in India. I received the Holland Scholarship from the University in 2016-17. I wanted my first microscope when I was 10 and that's how I ended up here. I tried to learn the Dutch language (free courses at the University), let's just say the experience has been intriguing. Apart from my academic interests, I am a hobbyist graphic designer and love science communication. My future plans are to pursue a PhD in my master's field and do some science journalism.
| | |
| --- | --- |
| Last modified: | 11 July 2019 12.58 p.m. |