Wael Talbi, Saudi Arabia
Alumnus, Masters in Dentistry, 2017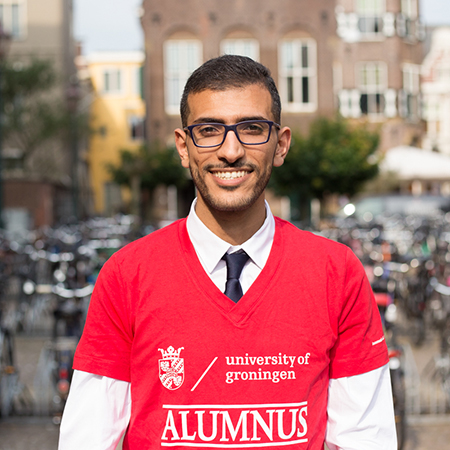 A great way to expand my academic and personal horizon
After almost two years of study as a dental student in my home country, I've decided to engage in a life-changing experience by coming to a totally different country with people of a different language and culture to pursue my dental degree. My deep interest in other cultures and languages, together with my passion for dentistry, has made the University of Groningen a very intriguing destination to me. With astounding 400 years of academic excellence and the nurturing of four Nobel-prize winners, the University of Groningen easily distinguishes itself as one of the world's most respected and renowned universities and secures its place in every top universities ranking. Due to the long nature of the dental program (6 years) together with a student-centred teaching style, very much has developed during my study in Groningen. Not only my hard skills such as medical and dental skills but also my soft skills such as communication skills, have problem-solving and analytical and critical thinking developed greatly. I might have taken the harder path by choosing a program which is completely taught in Dutch, but that was a very conscious decision for me. This is because I really wanted to immerse myself in another culture, and to experience a very different lifestyle. Nevertheless, the university offers most of the Bachelor's and Master's programs in English as well.
The University
The University is a forward-thinking institute and always puts its students first. That is proven by the continuous improvements to optimize the students' experience. Just to name a few: paperless academic environment, a brand-new and well-equipped student library with full access to academic resources, free Dutch language courses for its international students, hosting the biggest student sports club in the Netherlands where you can virtually practice all the sports that you might think of, and much more.
Groningen: safe, vibrant and student-oriented 'campus'!
When I stood for the first time in front of the main building of the university, I was surprised that there is no university campus. Later on, I realized that there is no campus in 'its classical form'. Rather, the whole city turned out to be one very big campus because it is so compact and well-interconnected. I am always surrounded by students from all over the world. Also, everything is a stone's throw away, especially when using the Dutch favorite transportation method: cycling! Honestly, I never expected that I would ever get back to using a bicycle after childhood as a serious, and actually a very convenient, way for commuting. I found the city Groningen to be safe and welcoming for me as an international student. I very rarely had the sense of being a foreigner because of the international outlook that the city enjoys. As well as its open-minded people who, surprisingly, speak English very well.
I think the book The Undutchables by Collin White & Laurie Boucke is a very interesting read that gives a nice depth in the Dutch lifestyle and culture. The book is written in a humorous and anecdotal way that makes it pleasant to the reader. I would really recommend the book, as it is always amusing to see if you will ever experience some of the narratives mentioned in the book!
My journey in Groningen has been a fulfilling and a rewarding experience in almost every aspect of my life, I have great confidence that I am ready to start my career as a dentist. It is frankly difficult to see myself turning the last page of the most spectacular chapter in my personal life. I hope you will also have a great experience during your stay in Groningen, the lovely city.
| | |
| --- | --- |
| Last modified: | 11 July 2019 12.57 p.m. |