Paulina Perkal, Poland
Alumna, LLB International and European Law, 2017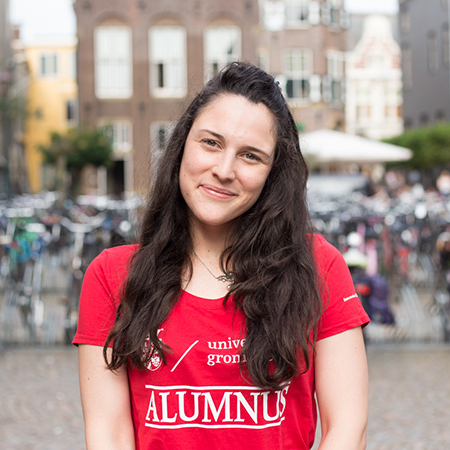 Groningen- A city with an unparalleled Dutch academic environment with international dimensions.
I understood the value of education at an early stage of my life, and it is my firm belief that studying abroad is the best way to broaden one's cultural horizons and to build up a social, as well as professional network. Groningen has made my academic period an unforgettable experience and has navigated my desired future career path in the best direction possible.
Why Groningen?
I decided to come to Groningen mainly out of pure curiosity and a desire to study abroad. However, two following reasons were decisive. Firstly, the University of Groningen's outstanding reputation for its innovative research and study methods all around the world, and secondly, an attractive English-taught study program falling within the field of international and European Union law that was not available at universities in Poland at the time. As it turned out, the LLB International and European Law has not only sparked my enthusiasm in the field of law but, above all, has endowed me with practical research skills and useful knowledge about the world and mechanisms governing today's world. It has immensely improved my level of academic English. Overall, my LLB degree has provided me with all the qualities necessary to pursue my further academic and professional legal career.
The city is our campus
Groningen is one of the youngest and bike-friendly cities in the Netherlands. Throughout the period of my studies, apart from the legal education, I had an opportunity to get acquainted with the Dutch folklore but also to many other cultures represented by my colleagues. The general motto of the city of Groningen, as well as the university's, seems to state that here is a place of equal opportunities where everyone gets the chance of a fresh start for the realization of their desired career path. Although the University of Groningen maintains the status of top research academic institution worldwide, it has relatively accessible entry requirements and an affordable fee structure. Besides the high level of education, the institution has a study atmosphere with highly competitive university staff, thus, making it one of the most student-friendly institutions in Europe. The distinctive feature of the this University of Groningen is that it indeed creates an equal chance for everyone wishing to participate in one of the numerous programs offered by the university, and then we – the students need to prove whether it was worth giving us a chance. It is well-known fact that studying abroad is the best way to broaden cultural horizons and to build up a personal and professional network. In my opinion, Groningen is a place of growth, opportunities. I can assure you, that once graduated, you will think back about Groningen with great sentiments.
Being an international student at UG was an unforgettable experience which facilitated and prepared me well for the life challenges still yet to come. I feel that studying in Groningen broadened my academic horizons, raised my self-awareness and endorsed me to real adult life. In other words, I would say that studying in Groningen transformed me into responsible and educated woman. The only advise I could give for new students is to try to maintain a balance in their academic life. Although it definitely requires a certain discipline, keeping a balance between studying hard and participating in social events is not that difficult as one may think.
Bibliography
Paulina Julia Perkal was born in Wrocław, Poland in 1995. During the academic year 2016/17, after a successful exchange at the Charles University in Prague, she obtained the LLB degree in International and European Law in Groningen. Her goal is to continue learning and developing a greater understanding of all aspects of international and European Union law, hoping to find new innovations that would strengthen justice and rule of law among European Union countries.
| | |
| --- | --- |
| Last modified: | 11 July 2019 12.56 p.m. |