Endira Siti Rahmasari, Indonesia
Alumna, Masters in Environmental & Infrastructural Planning, 2017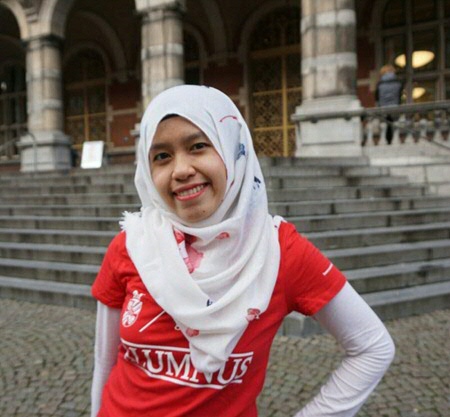 Home away from home
Groningen is located away from the Netherland's crowd. It is known as youngest and the most vibrant city in the Netherlands: approximately 25% of its population are students. The distance of two hours from the crowded southern cities of the Netherlands does not really matter, in fact it becomes an advantage for us to be more focused for studying in this quiet and comfortable ambiance. If you need some escape for relaxing, just go sightseeing to one of the city's sparks (public café, bars, city center) which can be reached in a couple of minutes from any student house. In this way, you have the chance to balance out your academic and social life. As this city is also famous as the bike-city of the Netherlands, you do not need to worry about spending much on transport. I think that there are many Indonesian students interested in studying in the Netherlands, due to the cultural similarities of the two countries that have given the Netherlands the status: "the home away from home".
Conducive and exciting academic experience
I heard about the University of Groningen (UG) because of the double-degree Master Programme that is cooperated with my alma mater in Indonesia, Institut Teknologi Bandung (ITB). I decided to pursue my single master's degree in Environmental and Infrastructure Planning (EIP) which offers an international perspective for analyzing urban and infrastructure planning.
Studying in Groningen has broadened my knowledge and understanding due to the new academic perspective and the multi-cultural experiences. My program particularly provides a great opportunity to be directly involved with the infrastructure/environmental project development fieldwork, it enables students to meet and do interactive brainstorming with stakeholders who are experts in the field. Since the beginning of the program we got to network and the chance to participate in providing input as regards the public policy.
Through my experience at this University I learned a lot about communication and critical thinking during in-class and field discussions, as part of a teamwork or independently, enriched by the diverse cultural backgrounds of students in class and the mentors. Students are guided by experts who are experienced in scientific research, as well as in field work. The staff of the UG is very kind and helpful. The students and staff are provided with excellent facilities and a reliable online learning platform of scientific sources. After all, the University has deserved its achievements of Nobel Prize winner (Prof. Ben Feringa) and its spot in the top 100 in international university rankings.
Biography
Hello, my name is Endira and I am from Indonesia. Before I came to Groningen, I studied my bachelor's degree Urban and Regional Planning in Institut Teknologi Bandung (ITB). I work for the provincial government in East Java, dealing with issues of regional and local spatial planning. Due to the linearity of the master program with my background and my job, I decided to study the Master's Degree in EIP, Faculty of Spatial Sciences at the UG. I love making new friends and therefore I will be more than willing to share my experience of the exciting and challenging life at this University with all of my fellow students.
| | |
| --- | --- |
| Last modified: | 11 July 2019 12.57 p.m. |