Dhwani Srivastava, India
Alumna, Bachelors in Economics, 2017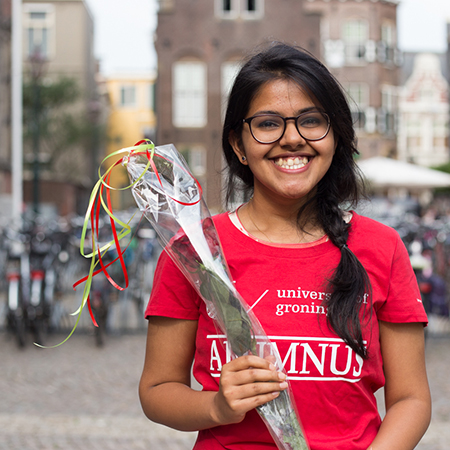 OLD is definitely GOLD
The Netherland is known for its quality education, reputed and old universities and of course, sociable people. Groningen is my second home as I have lived here for the past three years. Even though the university is over four centuries old, it has all the amenities as compared to new universities. Approximately one-third of the population fall between the ages of 18 and 28 which makes the atmosphere bustling with great activities for students. The main university building, the academy building, has traditional European architecture. The campus in Zernike, named after the first Nobel Laureate of the University has a modern touch. To sum it up, not only does the UG has the historical heritage, but also possesses progressive thoughts and ideas. Also, don't be surprised if you see a Nobel laureate, Ben Feringa, biking his way to the University. It's the Dutch culture that you will get familiar with time.
Blessing in disguise
The reason I chose the University of Groningen after my high school was its world ranking and the prestigious accreditations to the Faculty of Economics and Business (FEB). However, the materialistic reasoning soon turned into an emotional attachment to the city as well as the University. Being an Asian, you don't always get to live alone and this was my first time to live all by myself in an alien city. But honestly speaking, it wasn't that difficult. Even though Groningen is one of the smaller cities in the Netherlands, I never felt limited in my options with regards to places, food, and activities to do. People here make it easy for you to get in their culture and the lifestyle. Living alone doesn't only mean "doing whatever you want" but "doing what you need" and I realized this difference after staying here. Groningen is a true reflection of a Dutch city with a lot of canals, a bunch of bikes parked at every corner and cheese in every meal of the day. The Dutch love to befriend strangers (people greet one another on the streets). The city turns an introvert to an extrovert. The cliché "This city never sleeps" holds true when you experience the nightlife in Groningen. Groningen is certainly a student city and communicating in English is never a problem. The University allows you to the groom yourself through independent works. "Help yourself" is the attitude you often come across when you deal with the work which makes you more of a self-reliant individual. The University offers you the opportunity to avail the prestigious Erasmus+ scholarship (https://ec.europa.eu/programmes/erasmus-plus/node_nl). One of the best things about our university is that we have a lot of "active" student associations that provide you with platforms to express your opinion. A student's viewpoint is taken as seriously as any staff's to maintain a healthy and cordial relationship between the university and its members. Along with academic curriculum, every UG student gets several opportunities like being a student assistant, member of the faculty council, member of learning communities, etc. to develop and enhance their diversified skill set. In this way, they prepare you in both ways, theoretically for research and practices for working in the industry.
My Mantra
There are plenty of things to do except studying and spending time at the library. Engage yourself in a variety of activities, whether it is academics or extra-curricular. Get comfortable with the discomfort. Make friends from around the world. Explore the city, travel to the nearby places, and I assure you, you will have your own version of the Groningen chapter.
Biography
Namaste! I am Dhwani Srivastava (20 years old) pursuing BSc Economics and Business Economics at the Faculty of Economics and Business (FEB). I was born in India and brought up in Sultanate of Oman. I was a student rember of my faculty council in the year 2015-16. I took part in various volunteer jobs available within my faculty and the university. I have been a Year representative at QUEST (Quality of Education for Students) and Student Ambassador for my faculty. In my final year, I had the opportunity to study abroad (Erasmus+ ) in University of Turku, Finland. Having provided me with all these opportunities, UG has brought out the best in me.
| | |
| --- | --- |
| Last modified: | 11 July 2019 12.56 p.m. |