Kwaku Anane Sarpong, Ghana
Alumnus, Masters in Medical and Pharmaceutical Drug Innovation, 2017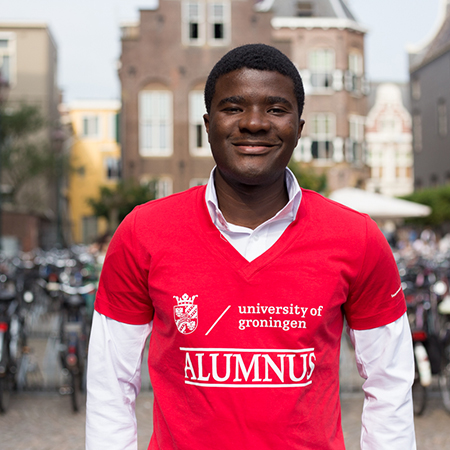 Why Groningen
My motivation to apply for graduate studies at the University of Groningen was mainly because of the availability of a program of my interest. Also, that the university belongs to the world's top 100 universities was a welcome fact. My knowledge about the city then was limited to it being in the north of the Netherlands. After almost two years living here in Groningen, I could not be happier with my decision – the quality of education and offerings of the city has been astounding.
Groningen - A beautiful, windy city filled with awesome people
The city of Groningen is neither too large to be overly crowded and noisy, nor too small to be boring. With many of the inhabitants being students, the youthfulness of the city is infectious. There is always one party or other similar activity taking place somewhere. Additionally, there are numerous pubs, restaurants, and hang-out spots. We say that the city is our campus! The University has faculties in different locations around the city and students live in apartments scattered across the city as well. Groningen is a city of bicycles and the bicycle is one of the most prized possessions of any student here; you are well advised to protect yours with your 'life'. To all prospective students, be ready for the rain and chilling winds but when you are lucky to have sunny days to check out the Martini tower, old cathedrals, and the beautiful countryside.
A culture of academic and professional excellence
Intellectual training of students is taken very seriously at the University. As a research student, you are allowed access to top-notch research equipment and material to support almost any line of research inquiry. Faculty and staff are excellent, professional and always willing to engage in stimulating scientific discussion or for a quick chat. Teaching is interactive and based on current knowledge in the field. Students are also trained to be creative, thinkers, critical of their work and that of others and to be able to present and discuss their work with others.
Many opportunities for personal development
My advice to any student is to immerse yourself in the city and its activities. Make as many friends as possible, take up the free introductory Dutch lessons if you do not speak the language already, sign up for extracurricular entrepreneurship courses and participate in all the sports and social activities that your schedule would allow. Carpe diem!
Biography
Kwaku Anane Sarpong completed his undergraduate training in Pharmacy at the Kwame Nkrumah University of Science and Technology in Ghana (2011) and enrolled in the Research Master's Medical and Pharmaceutical Drug Innovation in 2015. As a student, he served as the General Secretary for the African Student Community Groningen and a member of the Groningen International Student Platform (2015/2016). He intends to pursue Ph.D. research after his current studies with the view of a career in academia or industry in future. Kwaku is fluent in Twi (Akan) and English and capable of holding a basic conversation in French, Turkish and Dutch.
| | |
| --- | --- |
| Last modified: | 11 July 2019 12.56 p.m. |