Eva Amon, Germany
Alumna, Bachelor and Pre-Master in International Relations, 2017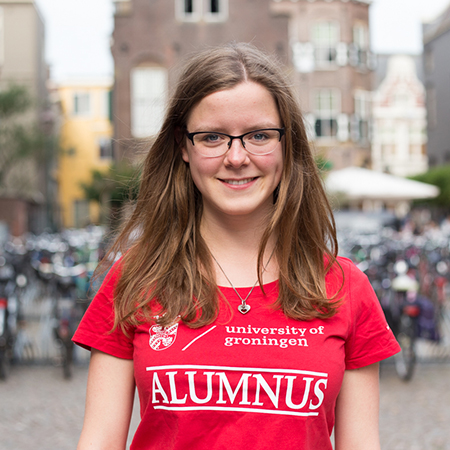 Bachelor, Pre-master, Master – many possibilities
In 2013, I started the Bachelor's program in International Relations and International Organization (IRIO) at the RUG. While I very much appreciated the holistic and critical approach this program offered, I developed a profound interest in the field of international economics. Therefore, I decided in 2016 to prolong my Bachelor's for one year and to follow economics courses to continue with Master's degree in Economics afterward. This is one of the positive aspects that the university offers. The Pre-Master's courses enable students to expand their knowledge into a different academic area other than their previous education.
Groningen - an international and welcoming city
I always dreamed of studying abroad. With this Bachelor's Program in IRIO at the University of Groningen, my dream came true. When I moved to Groningen, I immediately fell in love with the welcoming and vibrant atmosphere of the city. The bicycle culture, the nice language, international environment, student associations, a beautiful weekly market with delicious and traditional food, and the various possibilities to get integrated into the university, made me feel instantly at home.
Studying at the RUG
The most appreciated thing during my Bachelor's was the focus by the RUG on critical thinking and independent research. The emphasis on research papers, group discussions, and round tables inspired me to open up my mind and to think about various directions to analyze problems. Most of the programs of the University are on a similar organizational framework, including the teaching in small groups of 20-30 students. This method facilitated social networking in the beginning of my studies and also increased my academic level.
For past four years, Groningen has been a warmhearted home for me. I recommend studying at the RUG for its high-level (research) programs and its international character. The University offers an opportunity to students to expand their theoretical knowledge and boost their career. For questions, please do not hesitate to contact me, I look forward to answering them.
| | |
| --- | --- |
| Last modified: | 11 July 2019 12.57 p.m. |