Anton Fußstetter, Germany
Alumnus, Masters in International Economics and Business, 2017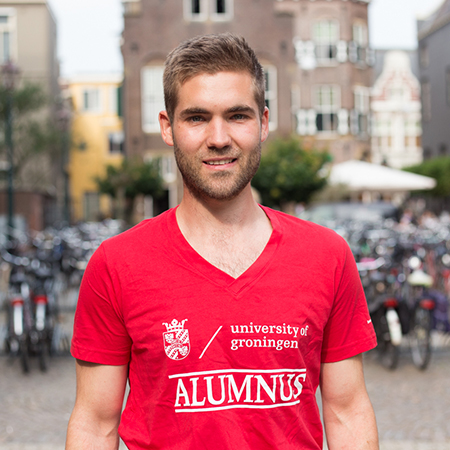 Studying with Excellence
I started studying at the University of Groningen within the framework of a Double-Degree Masters in cooperation with the University of Göttingen, Germany. Before coming to Groningen, I had started studying Masters level in Economics in Germany. In retrospective, coming to Groningen was a good choice since the study conditions at the RUG are excellent and stand out in many regards. First, the support and supervision of the academic staff are remarkable. My experience was that the professors at the Faculty of Economics and Business dedicated considerably more time and energy in preparing lectures, giving tutorials and talking to students than what I experienced at other universities. Discussing complex contexts in a group of students and professors gives way for better analytical and lateral thinking. Being at the end of my Master's study I am enjoying the benefits of the good reputation of the University of Groningen. That is, employers are aware of the standing and ranking of the RUG in an international comparison. Secondly, the facilities at the RUG provides an environment for a well-balanced life of a student. This includes not only libraries, the friendly staff, the facilities in the city center next to the historical buildings but also ACLO, the sports center at Zernike. In addition to all, the institutions like the Studium Generale provide a wide range of opportunities for inter-disciplinary learning.
Paradigm of a Student City
In my perspective, the city of Groningen has perfect opportunities for a student life. It is not too small to become boring but also not big to be anonymous. There are plenty of restaurants and bars in the city to shake-off study efforts. Likewise, the city has enough green areas for sports activities. Everything is within reachable distance by bicycle. It is a University city which makes it a young and vibrant city. The opportunities for recreational activities like trips to the sea, fishing or race biking made my time here most enjoyable.
Biography
Anton, pursued a double degree master's in International Economics and Business from the University of Groningen and the University of Göttingen.
| | |
| --- | --- |
| Last modified: | 11 July 2019 12.56 p.m. |