Oleg Tortladze, Georgia
Alumnus, LLM-Public International Law, 2017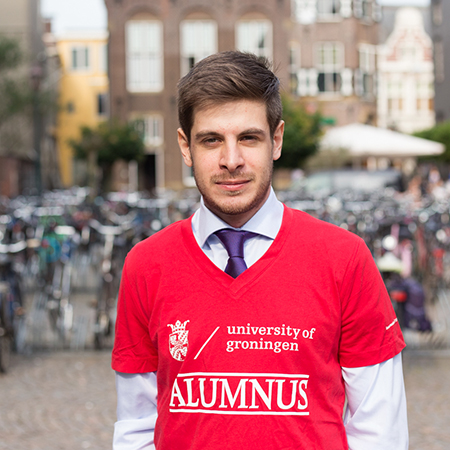 "Going Dutch"
One of my most treasured experiences in the Netherland was getting to live with a Dutch host family for my first two months in Groningen. They helped me adjust to the peculiarities of life in this small, northern city – like how the road rules for bikes work, and where to go shopping. They shared authentic Dutch cuisines with me and also showed hospitality. Later when I moved into my apartment, I lived with an eclectic mix of Dutch and international students. Living with locals had helped me adapt and integrate more quickly into the city life in Groningen. My international flatmates have taught me things about countries I have never visited.
RUG is undoubtedly a world class university.
The LLM in public international law at RUG is ranked as the best LLM in the Netherlands for 2017. It has been an honor to be able to study in this program. My professors worked with me in every step of my LLM journey. They are amazingly motivated to help with their students' professional and personal development. My time at RUG has been enriched by opportunities I had to take part in different competitions and extracurricular activities such as Moot Court and an entrepreneurship short course. There were always interesting lectures and networking events to meet new people and share ideas. My coursework was challenging and stimulating. I was given academic freedom to select a topic for my master's thesis. There was a lot of guidance and support given to my ideas. The university's library has been invaluable resources for my study.
Student Life
The fact that the university is spread out throughout the city center creates a feeling that the entire city is yours. It incentivizes students to integrate into the special world of Groningen student life. The local environment is so adapted to students with a strong café culture, lots of study-friendly spaces, and plenty of low-cost options for food and fun! I don't feel like a guest in Groningen – less than a year here and it already feels like home. The high cost of public transportation may seem daunting at first, but it actually encourages people to live a healthy lifestyle by using bicycles. I hadn't ridden a bike in years before coming to Groningen, but have quickly fallen in love with the active culture of bike riding and healthy, sustainable living in general. Another exciting thing about living in Groningen is the ability to travel throughout the country and Europe. There are frequent trips to places like Paris and even Barcelona offered at discounted student rates. The Dutch train system is easy to navigate, and bus companies travel to Groningen. I have already travelled to Belgium and Germany and am planning a trip to Denmark soon!
Biography
Oleg "Bacho" Tortladze is an LLM student in the international public law program at RUG. He is originally from Tbilisi, Georgia where he graduated with a Bachelor in law in 2015, and worked on the legal team of the National Tourism Administration. Oleg was granted an academic scholarship for 2016-2017 study year by the LEPL International Education Center, Government of Georgia; additionally he got the University of Groningen Talent Grant: Partial Scholarship. While sad that his time in Holland is coming to an end (for now!) he is excited to return to Georgia in the fall and represent RUG as the alumni ambassador to the entire South Caucasus region.
| | |
| --- | --- |
| Last modified: | 11 July 2019 12.56 p.m. |