Yiqing Peng (David), China
Alumnus, Masters in Global Economics and Management, 2017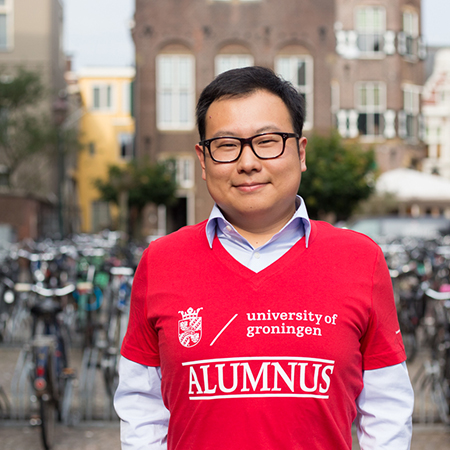 Groningen, the right place to study
Groningen is an excellent place for students to study. As compared with other bigger cities, Groningen provides students a peaceful environment for concentrating on their study. Apart from work, you can join the largest student sports association in the country, named ACLO, which gives you access to all kinds of facilities and sports lessons there. Alternatively, you can spend some hours in the bookstore reading a bestseller with a warm cup of coffee. There are also nice and cozy bars where you can enjoy different types of beer and hang out with your friends. It is very convenient to live in Groningen. With a bicycle, you can travel to almost all the places you need to visit regularly, such as supermarkets, university lecture rooms, and sports center. Another important feature is that living cost in Groningen is much lower than the other cities in the country. You do not need to spend that much money on the rent for your room and public transport as you would otherwise have to do, for example, in Amsterdam. As financial outlay is an important concern for prospective students studying abroad, Groningen attracts a lot of international students every year. It is a famous student town in the north of the Netherlands.
High-quality education
The University of Groningen is a prestigious university that emphasizes on the quality of education. For example, the bachelor program BSc Economics and Business Economics. It is designed in a coherent way that allows students to improve their knowledge and skills, from understanding the core principles and theories to learning and practicing the essential scientific research methodologies. To ensure educational quality, students have to meet certain requirements in order to pass a course and get the credit, such as mandatory attendance and active classroom participation. Rigorous academic training makes sure that students who successfully complete their bachelor's program are highly-disciplined, hard-working, and academically qualified for pursuing a more advanced degree.
Research orientation
The University of Groningen is one of the leading research universities in the world. Developing research skills and learning to do research is largely emphasized in each degree program. For instance, bachelor students from Faculty of Economics and Business learn how to use academic English and review literature in their first year and learn quantitative research methodologies in their second year. In the third year, students learn to use these skills in practice by writing a full-blown bachelor thesis. Rigorous scientific training offered by the University of Groningen develops students' analytical skills, which are essential for their success in the future profession.
Biography
Yiqing Peng comes from Shanghai, China. He obtained his Bachelor's degree in the English Language in 2011. Due to a keen interest in Economics, he came to University of Groningen for a thorough scientific training in Economics by participating in the research master program offered by SOM Graduate School, Faculty of Economics and Business (FEB). After getting his master's degree, he went to Amsterdam and followed a 6-month traineeship program at the Corporate Compliance Function of ING Bank Group. Yiqing is now a Ph.D. researcher at Department of Economics, Econometrics, and Finance at FEB. His research topic is Financial Liberalization, Financial Inclusion, and Inclusive Economic growth.
| | |
| --- | --- |
| Last modified: | 11 July 2019 12.57 p.m. |