Yuejie Wang (Jacky), China
Alumnus, Bachelor in Liberal Arts and Sciences, 2017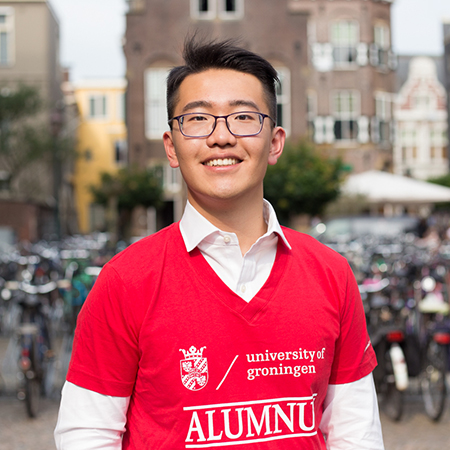 Get ready to be inspired
My three-year experience at University College Groningen as a bachelor's student entirely exceeded my expectations and left a precious memory for me. The University College offers the Liberal Arts and Sciences degree, which educates ambitious and broadly-oriented students to be creative and innovative in their approach to the complex challenges of our society. Studying at the University College allowed me to explore numerous academic disciplines which have broadened my horizons, and has constructed my knowledge foundation. I ended up studying Applied Physics with a combination of Philosophy. In this way, I'm now able to analyze problems from both a scientific perspective and a humanistic perspective. At the same time, University College has given me the confidence to work within a dynamic and ambitious environment, and taught me how to balance different opinions and find creative solutions. At my internship, this helped me to integrate ideas thoroughly and come up solutions that are creative, yet applicable! What's more, a lot of social activities for versatile development are also provided at University College. By participating in those activities, I had the chance to meet and interact with students from various countries and religions. We exchanged ideas and shared cultural differences, and that's where I really learn about the world.
That being said, University College Groningen is one faculty with many things you can explore and learn! "Er gaat niks boven Groningen!" (there is nothing above Groningen!).
Biography

Jacky yuejie Wang was born in shanghai, China. In 2014, he obtained his high school diploma in Shanghai. Afterwards Jacky came to Groningen to have his bachelor programme at University College Groningen. Upon completion of his studies, he will stay in Netherlands to do an internship and then continue his master program.
| | |
| --- | --- |
| Last modified: | 11 July 2019 12.56 p.m. |