Paul Zugmann, Austria
Alumnus, Masters in Technology Operations & Supply Chain Operations , 2017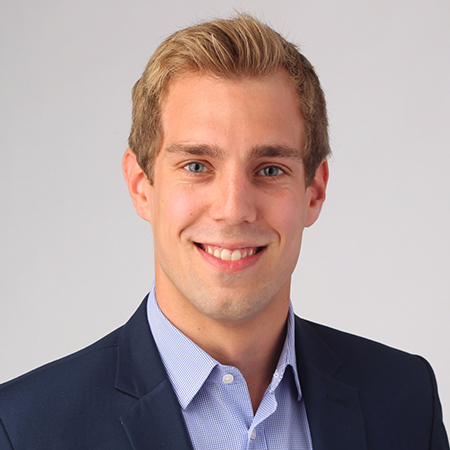 Why University of Groningen
The University of Groningen is a multicultural open university committed to research to the highest standards and focuses on the latest scientific discoveries. My experience here personally and professionally has been truly enriching because of the various aspects. I was introduced to cutting-edge articles and discuss the current developments in my area of study using effective applied practices. Through means of facing real-life problems such "creating and introducing a long-term asset plan to a real company" motivated me to search through the scientific literature to find advanced solutions and expand my knowledge. The big emphasis on discussing ideas for a solution with colleagues made the learning process additionally challenging.
A main added value of the University of Groningen is the professors' and supervisors' accessibility and friendliness. Their respect for students' knowledge and willingness to mentor each of them is what for me made a good atmosphere for my professional development.
The international life in Groningen and its surroundings
Similar to the University of Groningen also the city itself bursts with a young and international spirit. Having lunch with an Indian companion, studying with Dutch colleagues, hanging out with German, Italian and Mexican friends offered me an opportunity to learn about different cultures and develop my open-mindedness.
Groningen is surrounded by charming, cozy towns which are easily accessible. I could hop on a train and enjoy an afternoon trip with my friends in Giethoorn. Take a bicycle trip to the beach offered an energizing after-study escape, where I could get refreshed and get the head out from university for a bit.
In Short
The University offers a fantastic academic environment, interesting and exciting courses, interdisciplinary initiatives, as well as a remarkable library and sport facility. For these reasons, I heartily recommend the University of Groningen to other students. I would encourage them to enjoy and exploit the city, enriching their academic expertise to the full while seizing the great opportunities this university has to offer.
Biography
Paul Zugmann was born in Vienna, Austria, in 1993. From 2013 until 2016 he was doing his Bachelors in Business Management and Entrepreneurship at the University of Economics in Vienna, Austria. During this time, he studied in Rotterdam and also did an internship in Singapore for a multinational company. In 2016, Paul began his Masters in Technology Operations and Supply Chain Management in Newcastle UK. In 2017, he moved to the Netherlands to finish his studies. Currently, he is finishing his master thesis and also looking for new opportunities after he graduates.
| | |
| --- | --- |
| Last modified: | 11 July 2019 12.57 p.m. |