Testimonial Tim Lefarth (Germany)
alumnus Medicine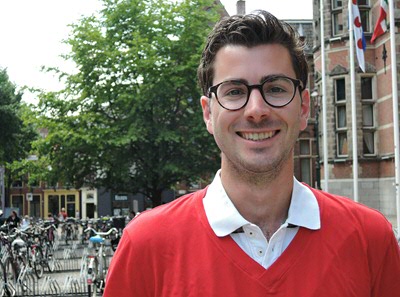 Outstanding
studying facilities and student oriented support
I came to Groningen by pure chance. Although I was quite familiar with the Netherlands because of numerous vacations, I never had heard of Groningen in particular. But throughout the selection procedure for my course I stumbled across the RUG and after some research, I discovered that the university was a good option. The RUG had a long tradition and a good reputation along with a recently revised bachelors program. Also the university medical center was quite impressive! I was surprised by outstanding studying facilities and good organized, student oriented support.
But what really impressed me was the course itself. Naturally I can't speak for other courses but the bachelor of medicine at the RUG stood out with real problem oriented learning, group based working and a focus on professional development, all closely monitored by a personal coach and caring mentor. From the beginning I was able to compare my course at the RUG with my brother's, who studied medicine back home in Germany. As I told stories of how things were taught here he became really jealous, and I became proud of my university.
Analyzing complex problems and developing communication skills
In my master years I was able to actually compare myself directly to German students when I had internships in Germany. The differences where baffling. Though the German students after years of learning facts by heart, stood out with detailed knowledge and ridiculous medical facts, our progressive course had taught us far more. I had learned to think medically. I could analyze complex problems, not because I knew all the facts, but because I had been taught certain strategies and even communication skills that had prepared me to deal with being a real doctor and acting as one.
More than studying
But studying in Groningen is not all about actually sitting in the university library or taking exams. As a foreigner, you may at first not realize that Groningen is one of the most famous Dutch student cities. But when asking Dutchies you will hear that it even outranks Amsterdam or Rotterdam. Why? Because this relatively small city is swarmed by students. You won't be able to cross the street without having to worry to be hit by one of the 25.000 students (living up to the stereotype, by bike obviously). But also the cafes and bars are crowded virtually 24/7. Okay to be honest, the morning hours are less popular… Possibly because most of the students need to sleep in after a long night with their sports team or student fraternity, which are both very popular in Groningen. The ACLO, the student sports organization sponsored by the RUG and Hanze University of Applied Sciences, enables you to participate in virtually every sport imaginable. I myself was member of the student icehockey team, G.S.IJ.V. The Bulldogs, as well as G.S.S.V. Squadraat, which is the student squash team. Being a student in Groningen is not all about studying, it's about participating in the student way of life. Besides getting taught the stuff you will need to succeed in your future job, it's also about getting to speak to all kinds of people from near and far, about all kinds of stuff. It's a lifestyle and a real experience I would recommend to everybody!
Biography
Tim Linus Lefarth was born in Bonn, Germany, in 1989. He obtained his high school diploma in Bocholt, Germany in 2009. Afterwards Tim studied Nano-engineering at the University of Duisburg/Essen in Germany before moving to the Netherlands in 2010, to study human medicine. After 6 years of studying he currently finishes his master thesis and will be graduating to be a medical doctor in 2016. From December 2016 on, he will work as a resident physician in trauma surgery in Germany.
| | |
| --- | --- |
| Last modified: | 11 July 2019 12.56 p.m. |