Testimonial Shubham Singh (India)
Alumnus Molecular Biology and Biotechnology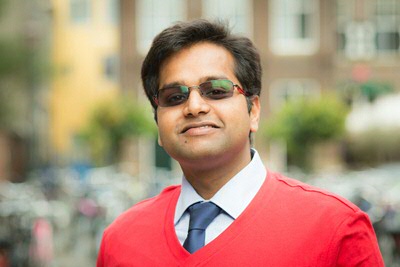 Two years ago, in 2013-14, when I decided to pursue higher education, the University of Groningen was obvious choice for three reasons: firstly, because it is one of the most reputed institutions for Life Science research in Europe; secondly it allows students to pursue a master program customized to their needs and capacity; and finally, (but most importantly for me) because it was associated with many fellowship programs of the European Commission. After getting the Erasmus Mundus fellowship, I was admitted to the University of Groningen (RUG) as a master student in Molecular Biology and Biotechnology (MBB) program.
Freedom, independent thinking and holistic learning
The most striking feature of studying at the RUG is the freedom it provides to the students. In practice, this means that the student decides whether to devote greater timeshare to the taught courses or to the project works, both of which, depending on the preference of the student, can also be pursued in other faculties of this university as well as in other universities (as an exchange student). The taught courses are very comprehensive in nature and provide a perfect blend of up-to-date theory lessons and laboratory experience. Depending on the study program, there can be one or two research projects, which aim at inculcating problem-solving skills and independent thinking in the students. In addition, students also have to present one colloquium and hand in one paper on a specific topic. So the master curriculum of RUG is designed to prepare students as competent and independent professionals, be it in the field of research, industry or business.
RUG encourages holistic learning, so a lot of emphases is also given on extracurricular courses. Many of these courses are either provided free of cost or they are subsidised by the university, and this includes a free course on Dutch language (Level 1) for newcomers. Many students pursue additional courses in arts, language, literature, design and manufacturing, entrepreneurship etc. Various guest lectures and debates are organized from time to time, which focus on personality development and additional learning.
High-Quality infrastructure
RUG recently completed 400 Years. Over these years, the University has accumulated a plenitude of high-quality infrastructure. Most university buildings represent the architecture of 17th century. It feels wonderful to be the part of a historic institution. The University library is full of contemporary and relevant books, both in digital and in print form. The University is subscribed to almost all the prominent journals, which keeps the students updated with present-day knowledge and gives the research and development a big advantage. IT facilities are also well developed, and the entire campus is connected through Wi-Fi. University has a fully equipped sports centre (gym included), where major sports are taught free of cost to all bachelor, master or doctoral students. The University also has its own research cum teaching hospital "UMCG" to take care of the students and employees.
Groningen city is mostly composed of students, so the city has evolved to take care of them. Although the University is responsible for providing only temporary accommodations to newcomers, it is generally not difficult to find the desired kind of accommodation in the city since students are always leaving at the end of their education or contract.
Many student organizations
Any description about the University would be incomplete without the mention of student organizations. In RUG, these may either be semi-administrative in function, which caters to the general requirements of the university students, or they may be country or region specific. These groups organize social gatherings or sometimes country-specific festivals and they often act as a contact between the students and the University officials.
A vibrant city with unrestricted but friendly people
Coming to the Netherlands was my first experience of going outside of India. I had only experienced the American way of living through movies and TV serials, so Groningen was a bit different from my anticipations. There were no tall buildings, no crowded roads, and for a developed country there were too fewer cars and far more bicycles than expected. While exploring the city, I found that biking in the countryside could be very relaxing (except when the rain decides to thwart your plans).
Groningen is very vibrant and relatively young city. Dutch people believe in an unrestricted society. They are straightforward and feel comfortable to discuss those issues which other cultures generally do not talk about. This sometimes comes as a culture shock for newcomers. Dutch people are friendly and are perhaps the most considerate group of people I have ever met.
The Netherlands feels very safe - it is perhaps the only country in the world where prisons are forced to close down due to lack of criminals! This overall pattern translates to the city also. Local people are friendly, respectful and inclusive. Since safety is not an issue in the minds of students, they have more liberty to explore their horizons.
At the end of two years of my master education, I believe that I have gained a lot of knowledge and experience. I feel very confident and prepared for the future, and I cannot thank the university enough for that.
To the students who are planning for higher education I strongly advise considering the University of Groningen as a destination. You would absolutely love the University work culture and the city life. It would provide you with an opportunity of all-round development, in a relaxed and nurturing environment.
| | |
| --- | --- |
| Last modified: | 11 July 2019 12.56 p.m. |