Testimonial Shishi Wu (China)
alumna Economics & Business Economics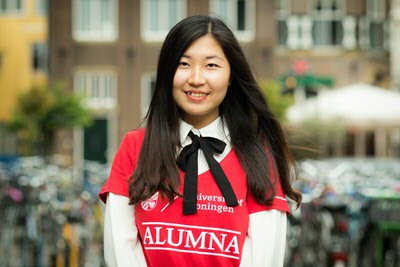 An old but youthful university
The University of Groningen is an old university with more than 400 years history while it is also a young university with multiple international students. During the 400 years of the long tradition of academic excellence, university of Groningen has created a climate for innovative teaching and research in an international atmosphere, with room for personal development. The university has extensive facilities and offers a wide variety of cultural, sporting, and social activities and programmes, for both Dutch and international students. As an international student studying at Groningen, I have felt welcomed and supported throughout he whole academic year. You can always ask your questions at the International Student Desk or University Student Desk. Staff members are always willing to helping you.
High-quality education and advice
The bachelor programme of the faculty of Economics & Business Economics is well organized, you will expect high-quality education and research advice. The career company here prepares you better for your future career. Beside a wide range of study programmes, University of Groningen also provides a lot activities for versatile development, starting from sports to social activities. By participating in different activities and communities, I get to know a lot of friends internationally.
"Klein maar fijn" is a proverb in Dutch, I think it is perfectly describing Groningen (a rhyme that means small, but nice). I really appreciate the studying experience in Groningen, thus I would fully recommend the University of Groningen to anyone who wants to get an outstanding education in a nice atmosphere.
B
iography
Shishi Wu is from China and came to Groningen to have her bachelor programme, at the faculty of Economics & Business Economics. Upon completion of her studies, she will stay in Netherlands to find an internship and then continue her master program.
| | |
| --- | --- |
| Last modified: | 11 July 2019 12.56 p.m. |