Testimonial Monica Devina (Indonesia)
Alumna Human Resource Management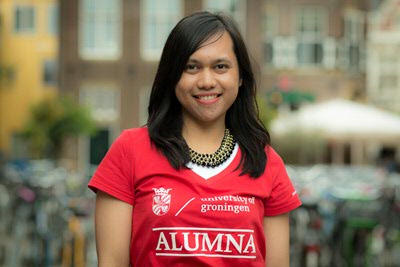 Become critical, open-minded and tolerant
UG as one of the top 100 best universities in the world provides a great study environment. Studying at UG made me more critical, yet open-minded and tolerant, also broadened my knowledge and encouraged me to convey my arguments by interacting with friends from different countries. As a leading research university, the lectures emphasize the ability to link the gap between theories and practices. The subjects are challenging because those subjects encourage us to improve our analysis, problem-solving, and communication skills during the learning process. Moreover, the lecturers are very open to helping you if you do not understand the subjects. The university also provides great facilities to support our studies, such as comfortable libraries and access to various international journals. The international and student service desk are also very welcome and helpful if you need some assistance. Furthermore, there are a lot of seminars, conferences, workshops, and guest lectures that can develop your knowledge and skills. All of the learning processes prepare you to compete in the job market and enables you to pursue the great professional jobs.
Happiest city in Europa
Related to the country, the Netherlands is a beautiful country with some icons, such as tulip flowers, stroopwafels, cheese, canals, and windmills. "Home away from home" is the words that can describe my feeling because you are easy to meet Indonesian people and find Indonesian food here. On the other hand, you also can enjoy the new experience in the international atmosphere and broaden your networks with people from various countries. Specifically, Groningen is a city in the north area of the Netherlands which is awarded by European Commission as one of happiest cities in Europe. The city is calm and not crowded so it is a comfortable city to study. The majority of inhabitants are young so there are many facilities for young people, such as sports, arts, language, entertainment, and student associations. Furthermore, Dutch people are friendly and the majority of them speak English fluently so there is no language barrier. However, if you want to improve your Dutch language skill you can join the free Dutch course and practise with the native Dutch friends. You can enjoy the fresh air by cycling or jogging at the Noorderplantsoen park, but it is important to check the weather forecasting every day to know the proper clothes you wear. You also can enjoy museums and historical buildings, such as Martini Tower, also shopping in the Vismarkt and Grote Markt, and hanging out with friends at cafes.
Independent and courageous
In general, study abroad made me more independent and tougher; also gave me the courage to go outside from my comfort zone and to develop myself to be a better person. Studying at the University of Groningen has been a great experience for me, so I recommend you to study and develop your knowledge and skills here by choosing the program that is suitable for you!
Biography:
Monica Devina is a master student of Human Resource Management at the Faculty of Economics and Business. She is an awardee of StuNed Scholarship from the Netherlands Government. She obtained the bachelor degree from Universitas Indonesia in 2014. During her study, she also participates in the Indonesian Student Association in Groningen.
| | |
| --- | --- |
| Last modified: | 11 July 2019 12.56 p.m. |