Testimonial Laura Gutium (Romania)
alumna Finance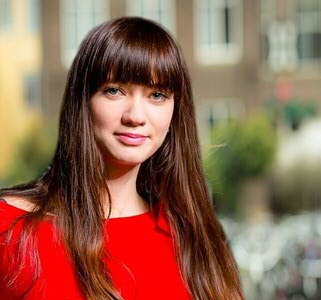 A new life adventure
I chose the University of Groningen exactly one year ago. This was quite a straightforward decision as my home university Alexandru Ioa Cuza from Iasi, Romania offered me the chance to apply for MSc in Finance in the second year of my master studies, at the University of Groningen. After a successful completion of the studies I will receive a Double Degree. I must admit that this opportunity was very tempting for me, especially because I knew that the University of Groningen is very renowned for its high teaching standards and is among the top universities in Europe with the highest number of international students. As I was striving for a new life adventure and international experience I applied and guess what, I received the scholarship and in August 2015 I first arrived in Groningen- a small, quiet and very peaceful city.
Constant learning
Groningen is perfect for students who prefer to stay away from very busy and crowded areas, concentrate more on studies, sports activities and students' life in general. Regarding the University and its range of opportunities for both local and international students I was pretty impressed. The open-mind set between students and professors is what I liked most. Also, the huge number of student associations allows you to better integrate into the Dutch environment and fully enjoy your stay there. An amazing thing that the Faculty of Economics and Business offers is Career Service. They are always ready to provide advice, counselling and constant learning through workshops, business challenges and event activities with regard to different tips on how to enter and succeed in the labour market. In terms of study facilities, the University of Groningen puts at your disposal numerous and well-equipped locations where you can study both on an individual basis and in groups. Overall, studies are extremely challenging and demanding but as long as you manage your time well and try to give your best the success is guaranteed.
Cultural differences
Besides the multitude of positive aspects, every new living environment has some characteristics that are less pleasant and they even may become frustrating to a certain point. For example, the strong wind and almost daily rain is a feature of Dutch weather with which you need to cope. Many times I felt as I was under a rainfall especially when cycling or even worse, fighting against the wind. Another issue is related to a different food culture of which you must be aware of. However, all these cultural differences are part of a learning process and horizon expansion with respect to the customs and traditions of other countries. The most important thing is to always find the positive aspects even from such moments, have fun and do not let them ruin your day.
Grow professionally and personally
In conclusion, the time spent in Groningen was a great life experience. The people I met and the things I learned made me stronger, more confident in my own forces and a better time manager. My piece of advice for all students interested in studying abroad is that if you are up to a new study and life challenge, University of Groningen is the perfect opportunity that allows you to grow at both a professional and personal level.
So, what are you waiting for? Go international, go in Groningen and live your biggest dream!
| | |
| --- | --- |
| Last modified: | 11 July 2019 12.56 p.m. |