Testimonial Ksenia Kapranova (Russia)
Alumna International Economics and Business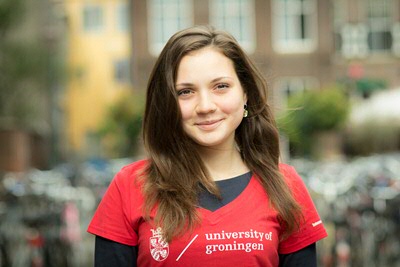 Looking forward to finding yourself in a place that attracts talented and highly motivated students and teachers? Let the tourists go to Amsterdam, businessmen to Rotterdam, but if you are a student: choose Groningen!
Here is why.
Diverse facilities and opportunities
One of the reasons that come to mind first is, of course, the University's 400 years history and its reputation for high quality education and diversity of facilities and opportunities available to students. However, excellent teaching methods and very motivating study environment are far from being the full list of Groningen strengths.
I always believed that academic studies should be accompanied by active participation in extra-curricular activities. Both university and city provide students with numerous opportunities to work on their personal and professional development while enjoying their time in the city. Join study association, participate in different events, i.e. workshops, field trips, guest lectures and much more.
Groningen
is fully yours
Once you find yourself in the small but very vibrant student city of Groningen, all the doubts of making the right choice are gone. From the very first moment you start feeling yourself at home. Narrow streets full of happy students make you fall in love with the atmosphere and rhythm of the city. However, you do not have to share the city with crowds of tourists, as let's say in Amsterdam. The city is fully yours! The architecture in the city centre is gorgeous. The number of places to go is numerous. The nature in the parks and suburbs is fascinating. All you have to do is text your friends and classmates, take your bikes and go out there to explore the city and its surroundings.
Good transport connection to popular South and North Holland makes it very convenient to travel there too. So once you know every single corner in Groningen, just take a train and within a couple of hours, you can find yourself in a new Dutch city. Managed to travel the whole country already? Take a bus and within a few hours, you will reach another country to spend an awesome weekend there.
Motivated and goal-oriented people
And of course, people. I strongly believe that for a personal growth and development it is very important to always interact with highly motivated and goal oriented people, with whom you can exchange your expertise, knowledge and opinions. This constant interaction helps to look at the world from different perspectives – the quality is much needed in the nowadays world. Believe me, here, in Groningen you will meet a lot of wonderfully interesting people, and make the most amazing lifetime friendships!
Once again, no doubt that there are a lot of wonderful places on Earth where you can go, but when you are a student – choose Groningen! It will open the doors to the rest of the world for you!
Biography:
I am from Moscow, Russia. Throughout the last 5 years, I have studied and worked in Russia and Bulgaria and worked in the USA. Before coming to Groningen, I spent 4 years in Bulgaria, where I completed my two Bachelor degrees in Business Administration and Political Science & International Relations at American University in Bulgaria (AUBG). In the University of Groningen, I study Master's program in International Economics and Business. I find it to be a perfect continuation of my studies as it allows to combine the knowledge received from both of the bachelor degrees and add the Western European approach to my understanding of economic related events.
| | |
| --- | --- |
| Last modified: | 11 July 2019 12.56 p.m. |