Testimonial Freya van Ellen (Germany)
Alumna International Relations and International Organization (BA)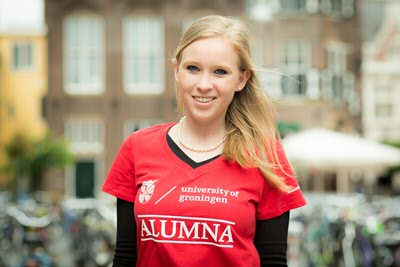 At home in Groningen
2013 was the year of great decisions. I finished high school and had to decide which study to pursue and especially where. I chose to study "International Relations and International Organization", which was offered at only one German university. I therefore visited the open day at the University of Groningen and discovered that this program incorporated many advantages to the program in Germany and many other Dutch cities. I applied and after the selection process, I finally had the certainty: I was going to complete my Bachelor Degree in Groningen.
At that point, I had only experienced the Netherlands during my vacations. I did not speak the languages and I never had insight into Dutch university programs. In August 2013, however, I moved and immediately felt at home. The people were incredibly friendly, helpful and really tried to integrate me into the Dutch society. The most special component of my integration process was, of course, my bike, which became my best friend in Groningen and took me anywhere I needed to go.
Additionally, Groningen is a vibrant student city, with a vast number of students from all over the world. Therefore, you will be able to make local and international friends, with which you can sit in one of various cafes, parks or bars, a student city like Groningen has to offer.
As typical for a Dutch student city, there are many Student or Study Association, which offer you to spend nice nights of celebration in the city, but which also have an academic aspect. They provide you with the opportunity to organize lectures, travels, researches or any other social activity. Additionally, you can get involved in almost any kind of sport, may it be fitness or a team sport.
International environment and experts
Of course, the university also has numerous advantages in the academic field. Besides an international student environment, there are also many international professors and teachers, who offer a broad and complex perspective on any issues. Additionally, professors are internationally recognized experts in their field and help you whenever there is a problem. The university additionally challenged me through the free Dutch course, which supported my integration process and today allows me to speak Dutch almost fluently. For ambitious students, the university also offers the Honours College, through which you are able to adapt new perspectives from different fields at your own and other faculties. Personally, the university helped me to develop my personal skills and it guided me in the decision for the profession I want to pursue in the future.
As a student at the University of Groningen, you will be able to experience the best of both worlds. The opportunities offered to students are complex and the university provides you with great and challenging opportunities. Groningen is definitely the right choice.
Biography
Freya van Ellen lived in Western Germany before commencing her studies in Groningen. During her high school years, she took part many exchange program, for example to the United Kingdom, Hungary, the United States and Australia. After commencing her studies in Groningen, Freya formed part of the Study Association Clio, for which she helped to organize international research opportunities for fellow students. Additionally, she was part of the student mentor program to guide first-year IRIO students through their first year and took part in the Honours College. In the third year of her study, Freya had the chance to spend a semester in Canberra, Australia.
| | |
| --- | --- |
| Last modified: | 11 July 2019 12.56 p.m. |