Testimonial Elisa Ahovuori (Finland)
Alumna International Relations and International Organization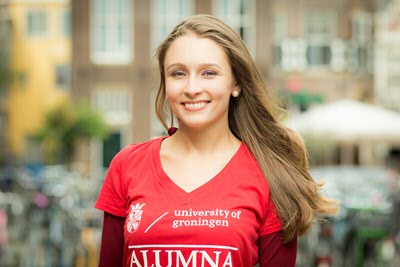 The city is truly international and welcoming and the accessible university offers a wide range of quality programs . Let me explain why I chose these words firstly, to describe the city, and secondly, to define the university.
International and welcoming Groningen
Firstly, let's have a look at the international and welcoming qualities of this beautiful place in the North of the Netherlands. Groningen is said to be the "youngest" city in the Netherlands population-wise due to the high number of students coming in every year. Students come from all corners of the world. This makes the place very fresh, alive and vibrant, with many student associations to choose from and art/food events to dive in. You will find many other international students in the same situation, and networking here is facilitated by many student organizations. Groningen will become your home in no time.
Accessible education
Secondly, I shall justify the word choice "accessible" to you. For a Finnish student like me, Groningen is more accessible than universities back home. Why is this? The University of Groningen has an open access to many of its study programs, meaning that instead of having entry exams like in Finland, here you need to study hard and pass enough courses per year to be allowed to continue your studies. Thus, you can easily start a program of your choice and the selection is done while you go. In this fashion, you have a chance to try out the study you are interested in, more easily than in many other countries. If you are doubting about the level of the studies, don't! Have a look at the impressive background of the teachers and research, and you will see for yourself. The educational atmosphere is very positive and interactive, so you will not be disappointed.
Biography
Elisa K. Ahovuori completed English Language and Culture (BA) and International Relations and International Organizations (MA), both at the University of Groningen. She is multilingual and has lived in Finland, France and the Netherlands while working and studying. As an example of an extra-curricular activity, during her MA studies she participated in a research for the Dutch Ministry of Education to research student mobility between the Netherlands and other countries. As a part of the MA program, she successfully completed an internship at CESS, Centre for European Security Studies in Groningen.
| | |
| --- | --- |
| Last modified: | 11 July 2019 12.56 p.m. |