Testimonial Dilva Joya (Mexico)
Alumna International Relations and International Organization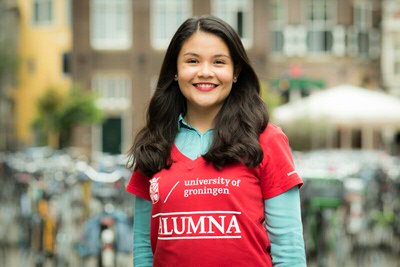 Versatility
Studying at the RUG has been a rewarding challenge. The Dutch education system is very different from what I was used to before coming to the Netherlands. At the RUG, the groups tend to be small, the professor-student relationship is informal, as if we were colleagues, and the education is research-oriented. In the beginning, I struggled a bit with these new situations but I adapted and this gave me versatility.
Renowned and helpful professors
Without a doubt, the RUG is a high-quality university which has a lot to offer to its students. You can attend classes with renowned professors and researchers in every field of study which makes you develop your capabilities to the fullest. You can sign up with hundreds of associations and sports clubs, attend complementary lectures, cultural activities and events, get an access to vast amount of research resources and even learn Dutch. The staff and the professors are always willing to help you and the environment is completely student-friendly.
An innovative, multicultural, safe country
The whole city of Groningen is the university campus. The people here are kind and speak English well (so you don't have to be afraid of the language, but learning Dutch will definitely help to get closer to the Dutch culture). Also, Groningen has everything you need for your daily life and to have a great time: tasting local beers, having a cup of coffee on a 'terrasje'', going to festivals or taking a weekend trip. Besides, the Netherlands is more than just tulips, windmills and cows. This is an innovative, multicultural, safe country with a great history and beautiful surroundings. But there are some things you need to get used to, though, like biking to everywhere (which is amazing and gives you freedom, but make sure to lock your bike), the directness of Dutch people (don't take anything personally) and the crazy weather (!). And don't forget to try Dutch cheeses, they are delicious!
Biography
Dilva obtained her BA in International Relations at the University of Colima in Mexico. During this time, she had the opportunity to do an exchange to China. This made her very curious about discovering the world and looked for ways to gain more international experience. Later on, she did internships in the US, where she worked on migration-related issues, and in Spain at the economic affairs department of the Embassy of Mexico. Now, Dilva is finishing her Master in International Relations and International Organization in Groningen; for this program, she was granted the Orange Tulip Scholarship by the RUG. Dilva speaks Spanish, English, a little bit of Chinese and is currently learning Dutch.
| | |
| --- | --- |
| Last modified: | 11 July 2019 12.56 p.m. |