Testimonial Beril Burcak (Turkey)
Alumna Econometrics, Operations Research and Actuarial Studies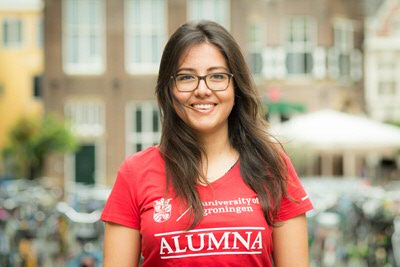 400 years of tradition and innovation
My decision to study at the University of Groningen was mostly influenced by the university's reputation, the high ranking of its business faculty and its strong relations with the industry. The University of Groningen uniquely combines the strong aspects of its 400 years of tradition with a continuous ambition for innovation.
Holistic understanding
Before coming to RUG, I studied Industrial Engineering at Bilkent University. I chose to do a master's on Econometrics, Operations Research and Actuarial Studies to further expand my understanding of operations research and broaden my knowledge of econometrics and economics. Making the transition from engineering to a more mathematics and statistics-driven discipline has surely been challenging, but this has further improved my analytical skills and helped me develop a particular holistic understanding.
Open Dutch culture
Initially, I would strongly recommend going abroad to study. Yes, it might be difficult at times, but the benefits will certainly outweigh the disadvantages. You will not only gain cultural awareness but will become a more resourceful person with unique experiences, develop an international vision and best of all, you will have the privilege of having multiple homes across the world! In this sense, University of Groningen is a great place with its open and welcoming nature for the internationals and it is safe to say you will not experience any downsides of being a foreigner thanks to the open Dutch Culture and the community with a surprisingly excellent English.
Endless opportunities
The university has a very good academic quality with a very competitive international reputation. You will be challenged to produce your best work, learn from the pioneering professors of their fields and be amazed by their approachability and enthusiastic demeanour towards the development of each individual. Moreover, due to its diverse and dynamic environment, you will be inspired to get involved and simply to do more. The university offers a variety of student associations, organizations, clubs and sports activities, and an encouraging environment to start your own if you are willing to do so. There are several talks, events and seminars throughout the year that speak to any sorts of interest areas. You will also have endless opportunities to start investing in your future. Whether you want to become a competitive individual in the job market, start your own business or have an academic career, you will find multiple divisions, extracurricular courses and coaches willing to guide you and help you get equipped with the necessary tools.
Helpful and flexible staff
Having experienced several universities, one of the aspects that have most struck me here was the support and priority given to the individuals. From day one, the university staff is willing to be helpful and be flexible according to the students' wishes and needs. You will always find someone or some organization willing to help you or work with you. Help is always given to those who ask for it!
All in all, take this opportunity to go abroad and the University of Groningen will offer you all the tools and opportunities for your development and challenge you to become a better individual.
Biography
Beril Burçak is from Turkey and studied Industrial Engineering at Bilkent University in Turkey and partly at the University of California, Berkeley during an exchange semester. She has received a scholarship from the EU Commission to complete her master's degree in the University of Groningen in Econometrics, Operations Research and Actuarial Studies Program offered by the Business Faculty. She has taken an active role in multiple international environments and organizations.
| | |
| --- | --- |
| Last modified: | 11 July 2019 12.56 p.m. |