Testimonial International Alumni Ambassador
Name: Archibold Mposhi
Country: Zimbabwe
Program: MSc Medical and Pharmaceutical Drug Innovation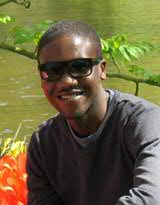 About Studying in Groningen
Experience is the best teacher. Every opportunity to experience something new is an opportunity worth taking. For most international students the thought of leaving home and becoming part of a different society is unbearable. This is how I felt when left my home country, Zimbabwe, to pursue my Master studies in Medical and Pharmaceutical Drug Innovation at the University of Groningen. Leaving behind everything that I was accustomed to was scary but it turned out to be an exciting experience for me. I have to admit that before I came to Groningen I did not know how well I was going to integrate into the Dutch society. All I can say is that Groningen gives international students a warm feeling that they are at home. In such an environment it is only natural to feel at home.
My first weeks in Groningen were spectacular, everything was just fascinating, even getting lost was a fun experience because either way I ended up seeing something I had never seen before. Groningen introduced me to mustard soup, stroopwafels and oliebollen. My first welcoming gift was a pack of stroopwafels and since that day I just can't get enough of this Dutch delight. However, I found "zoute drop", one of the Dutch candy delights, to be quite the opposite of what I thought candy was supposed to taste. Having said this, I have to admit that overall Groningen has lived up to my expectations. One thing took me by surprise though; it seems there are more bicycles in the Netherlands than there are people. It might sound a bit unrealistic but it's true. For students this is the number one mode of transport that is cheap and reliable. In Groningen, as is the case with most cities in the Netherlands, it is wise to keep your friends close and your bicycle even closer.
Apart from buying a bicycle, one of the most important things one must do upon arriving in Groningen is to make friends. During my two year study period I made more friends than I ever thought was possible. Within the first month of my stay in Groningen I had already made many friends, both Dutch and international students. I felt like I was meeting the whole world in one city. Every time I went out was an opportunity to make new friends. Another fun fact about studying in Groningen is that everywhere you turn to you are likely to bump into a fellow student you met at a party the previous night. The city of Groningen gives the students an impression that they own the city….and it is true.
Unarguably, the University of Groningen is what makes Groningen a special city. Being one of the top universities in the Netherlands the University of Groningen offers students a great learning experience. In Groningen you meet students everywhere and being part of this diverse student community makes the learning experience incredible. After having studied for almost two years now I can proudly say that the University of Groningen gives international students a profound learning experience that extends beyond the confines of the classroom. I have benefited tremendously in terms of acquiring relevant research skills and critical analysis which will help me in pursuing my career in medical research. I was intrigued by the friendly interaction between students and their professors. I have found this to not only foster a good working environment but it also encourages students to participate more in research activities. During my studies I was constantly being challenged to think critically and to aim for high goals. I can only describe this experience as having been an eye opener to what the world has to offer. I found myself rubbing shoulders with some of the best researchers and taking part in their research. Looking back, I realise that coming to the University of Groningen was probably one of the best decisions I have made so far.
| | |
| --- | --- |
| Last modified: | 11 July 2019 12.58 p.m. |