Testimonial International Alumni Ambassador
Name: Daniel John O'Neill
Country: United Kingdom
Program: BA American Studies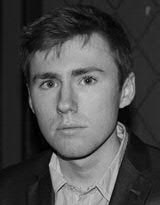 About Studying in Groningen
The choice to study in Groningen was not easy, but it was a decision that has changed my life and moulded me into an ambitious, active, and adaptable student. I wanted to experience something very different to what many of my peers would experience. I have developed into a more independent student and grown very mature at a young age through my time in Groningen.
Academic and personal supports for international students at the University of Groningen have only developed and improved since I first arrived in 2012. From the International Student Office to monthly faculty borrels (a term you will become familiar with and happy to hear after hard day's work) to the endlessly friendly and approachable staff members, your exciting new educational journey will be made more manageable and enjoyable throughout your time as a student.
However, you are still expected to be independent and innovative. By paying considerably less tuition fees than the average university student in the United Kingdom, you will sometimes feel the pressures to give more of yourself in your studies, and you will soon realise why the University of Groningen remains one of the top universities in the world: do not let the relatively low grade admission requirements fool you. The dropout or failure rate in my course, for instance, is high. You do not pay for your degree; you are expected to earn it. In the long-term, however, this is hugely beneficial, and something that employers will greatly appreciate.
The opportunity to bring what I have learnt in Groningen back to the United Kingdom is rewarding and unique. Professors in the United States welcomed my international input in class whilst I was on exchange at the University of North Carolina at Chapel Hill and believed that my experiences in Groningen were of tremendous value to their classrooms. The international perspective that the University of Groningen offers is truly special and is increasingly sought-after by academic institutions across the globe. To decide to study at the University of Groningen is to decide to become a more culturally-understanding, critically-thinking, independent and exciting person both inside and outside of the classroom.
Living in Groningen
Living in Groningen as an international student can be hard at times, but it is always fascinating and, above all, fun. You will quickly learn how to ride a bike, how to speak in Dutch, and most importantly you will make many friends from all over the world thanks to the enormous support from both the University and international organisations such as the Erasmus Student Network (ESN). You are encouraged to immerse yourself in the plethora of cultures and traditions of Groningen, which is also known as the World Cycling City. I have written about some of the typical, and strange, experiences that international students may encounter whilst living in Groningen for the University newspaper.
One of the main advantages to studying in Groningen is that learning to speak Dutch is not necessary, although it can be helpful. As a thoroughly international city, the people of Groningen are fluent in English. This is a particularly attractive characteristic to British students. Your multi-lingual surroundings, however, will most likely drive you to take advantage of the free Dutch language courses offered by the University anyway.
This is a city I look forward to returning to in the future, and a place that will be difficult to leave. My time in Groningen will no doubt remain one of the most profoundly enriching experiences in my life, and a chapter I urge others to write into their lives.
Biography
Daniel moved to Groningen from the United Kingdom to study American Studies at an undergraduate level. During his time at the University, he wrote for the Universiteitskrant (UK), which is an independent university newspaper for the University of Groningen students. Within his degree's study association, EPU, Daniel was the Editor in Chief for the American Studies Herald (ASH), which is a quarterly academic magazine that introduced an online department under his direction. Other contributions include articles in the Honours Review magazine and the For Infinity magazine, which was published in celebration of the University of Groningen's 400th anniversary. As an avid musician, Daniel played the baritone saxophone for the Harmonie'67 concert band, which is a Dutch band with whom he has featured on Dutch television. Daniel also spent a semester on exchange at the University of North Carolina at Chapel Hill in the United States of America, where he wrote for The Daily Tar Heel and played the alto saxophone in the University's Symphony Band. Upon completion of his degree, Daniel will return to the United Kingdom to continue his academic career at the University of Oxford at a graduate level.
Additional contact information:
LinkedIn

| | |
| --- | --- |
| Last modified: | 11 July 2019 12.58 p.m. |