Testimonial International Alumni Ambassador
Name: Ola Savchuk
Country: Ukraine
Program: Master Energy and Environmental Sciences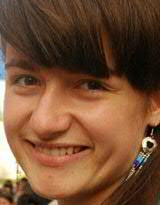 Moving to the Netherlands
Exploring yet another country was my goal when I chose for the Netherlands. Having lived in several places before, moving to the Netherlands did not seem challenging for me. Most of the getting-around information is available online, moreover with translation tools there is no effort needed.
The major Dutch trial is finding a suitable place to live - close to facilities, private enough, and without special pricing for the non-Dutch (read: without being taken advantage of). Though the government makes an effort to regulate house renting, many international students don't know what costs and conditions are fair. I was lucky to be rejected by the university housing and get a very nice cheap place close to Zernike via Lefier (something that Dutch students use a lot).
As the university is quite extended, one typically needs a mentor to get around. I am grateful to my ESN mentor who was a great help during my first few weeks.
Why Groningen
Choosing among the master degree offers was difficult. My goal was to specialize in a particular field of environmental studies. The University of Groningen caught my attention with its energy-focused research. Learning that Groningen is one of the well-known energy hubs in Europe convinced me that it was the place for me! Moreover, cutting-edge practices and research are combined with a strive for innovation and entrepreneurship.
Studying at the University of Groningen
The university setting encourages you to:
- become an independent researcher carrying the responsibility for your job and its quality​;
- manage your time and resources by organizing your activities in order to perform successfully;
- make a tailor-made program focused on improving specific points by selecting courses and extracurricular events;
- learn more about both team work and individual performance.
In terms of environment, the University of Groningen provides:
- excellent facilities (labs, libraries, computer rooms and offices);
- mixed study groups so you can work with people of different backgrounds;
- strong support to international students;
- availability of student-oriented facilities ranging from department clubs to sport centers.
| | |
| --- | --- |
| Last modified: | 11 July 2019 12.58 p.m. |