Testimonial International Alumni Ambassador
Name: Sebastian Hudson Correa
Country: Chile
Program: MSc Environmental and Infrastructure Planning (EIP)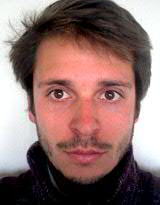 About Studying in Groningen
Choosing the University of Groningen was not by chance, nonetheless it was a big surprise. I first chose the Netherlands for its historical background in planning and engineering, and then the RUG for its tradition and prestige. Even when I assumed that getting a RUG degree was going to be challenging, I did not know at the time of arrival that I was going to be sharing knowledge with the best experts in each field, and that they were going to push us to the limits of knowledge, getting the best out of each of us. I have experienced with great pleasure, the challenges of reframing each of my thoughts and actions, looking for new perspectives and new insights on the world out there and my inner self.
RUG is a fast-moving global institution with an outstanding discussion environment and a leader and pioneer in academic research. As a student in the MSc Environmental and Infrastructure Planning (EIP) I have witnessed the seriousness of the research and what work professors and students bring to discussions, and I have been amazed by this.
I feel inspired by the University's excellent spirit and innovative environment.
This is not all. During my stay I became member of G.S.S.V. Squadraat and G.S.B.V. Pugilicé, the local squash and boxing clubs that train in ACLO, the biggest and most complete university sport center I have ever been to. As an enthusiastic sportsman, ACLO has exceeded all of my expectations.
Groningen itself seems to be made for students, its cosmopolitan air mixed with its small town feel creates the overall image of a city to live in and experience. Being from the south, I came with the idea of facing the cold people from the north; I was completely wrong. I have not met nicer people than Groningen's. You will find good will and good English everywhere.
Aside from Groningen there is the fact that the University is in The Netherlands, and that between stroopwafels, tulips, one thousand different cheeses and 7 euros train tickets to anywhere in the country will make your stay in Groningen an experience you won't want to end.
Biography
Sebastian Hudson is born in Santiago de Chile in 1988. He obtains his degree as an Architect from the Universidad de Chile with Cum Laude in 2013. In the next year, he achieves the degree of MDI (Masters in Real Estate Development) from the same school with Summa Cum Laude. Currently he is finishing his thesis in order to obtain the degree of MSc in Environmental and Infrastructure Planning from the University of Groningen.
| | |
| --- | --- |
| Last modified: | 11 July 2019 12.58 p.m. |