Testimonial International Alumni Ambassador
Name: Alexandra Crisan
Country: Romania
Program: LLB International and European Law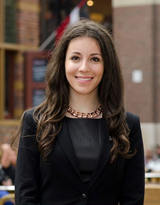 About Studying in Groningen
Living in Groningen as an international student gives you the opportunity to develop and grow like you never imagined. My experience was very complex and this is due to the fact that I decided to get involved in the community life of the University at its highest. As a Law student I was part of my study association, participated in various Model United Nations and other symposiums and conferences and then I moved into students politics by being the International Students Representative in the University Council. During my last year of studies I started to work for various departments of the University as a student assistant. In this way I developed extremely useful professional and personal skills and obtained the confidence to dream bigger and bigger.
It is incredible how many doors this University opens for you, both locally and internationally. All of this due to its excellent reputation. The University of Groningen has partnerships with universities all over the world so you can have an exchange experience almost anywhere and dive into different cultures and develop yourself (I personally choose the USA and it was incredible). Moreover, the way we as students are prepared to tackle the international labour market as graduates of the University of Groningen gives us a competitive advantage. This is due to the way in which our programmes incorporate international examples during the lectures and make use of the multicultural diversity present in the class in their teaching methods. The international community is very present in this vibrant city. This is the place to make friends from all around the world and explore new cultures. Let your academic experience be inspired and enlightened by this wonderful place.
Bibliography
I come from Romania, Maramures and by the time I moved to Groningen I had already studied in two other countries: The UK and Romania. Therefore I feel that I have the experience to make comparisons and thus acknowledge the value of our education institution. I have two bachelors. I studied Economics in Romania and after that started the Bachelors of International and European Law in Groningen. My program of choice has definitely fulfilled my expectations and now I am more than prepared to move further into a Masters which will perfectly combine my two fields of expertise: International Business Law.
| | |
| --- | --- |
| Last modified: | 11 July 2019 12.58 p.m. |