Testimonial International Alumni Ambassador
Name: William Pitz
From: UK
Program: bachelor Psychology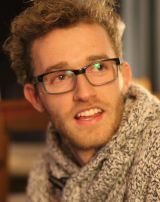 About moving to the Netherlands
Coming to the Netherlands was not a big step for me. I have lived in both the UK and Germany in the past so moving somewhere else seemed like a good tradition to stick to. Besides this seemingly beautiful reasoning behind coming here, I of course had to think of moving first. The story behind this is somewhat less romantic. Back in 2011, I applied to UK universities via UCAS. Not only were the too few university places to go around, I was also a bit too ambitious concerning my subjective estimation of my grades. Once the wave of declining letters came through, I sat down and did my research. Back then, Groningen was the only university in the Netherlands that offered psychology in English; so finding it was down to google-experience. Being here now, I do not regret leaving my beloved country behind (and neither does my wallet for that matter…); you can always go back - but at some point leaving becomes the bigger challenge.
Why Groningen
After having chosen Groningen for rather superficial reasons (i.e. a degree and its financial charm) I fell in love with the city the second I arrived. It's small yet big, full yet empty, and no matter the weather, there's always something to do. The University of Groningen (or Rijksuniversiteit Groningen as the Dutch proudly refer to it as) offers a variety of post- & undergraduate courses in English. Thanks to this, they are no stranger to strangers. Associations such as ESN and each study's own study association, offer vast amounts of activities for everyone.
However, not everything can be sunshine and happiness. Accommodation is scarce (at least if you don't know your way around) and I spent my first year moving every 1-2 months. However, I eventually managed to find a beautiful room and have made many Dutch and international friends because of it.
Studying at the University of Groningen
When I arrived here, I did not know what to expect. I had never studied before so I just thought of it as school only tougher. Immediately you are thrown in the deep end and are seemingly swamped with reading etc. However, after a week or two you realize that planning is everything. Moreover, the teachers are open to queries and appreciate an interested student. Assessment in my study occurs by means of multiple choice exams. This is definitely something one needs to get used to. Coming from school (or any other educational institution for that matter), one is generally used to essays and course work. This is not the case here (at least for psychology). In addition, the grading is based on a 1-10 scale (6 = pass) which also resembles 55-60% cut-off scoring system.
Obviously not all programs are solely based on multiple-choice exams, and even though it's a lot of work getting used to it - you learn a lot nonetheless! So, if you're up for a challenge and ready to experience one of the best student cities in the world, apply as soon as you can - you won't regret it! I have had the best time of my life here and wouldn't change it for the world.
Biography
William Pitz is from the United Kingdom and moved to Groningen to study psychology at an undergraduate level, at the faculty of Behavioural and Social Sciences. During his time here, William was very active within VIP (Study Association Psychology Groningen). During his active period at VIP, he organized the introduction week for first year students of psychology in his first year and became a board member in 2012 ( the first international student ever to do so). In 2013, by the time he had completed his board year, William was elected as vice-chair of the faculty council for Behavioural and Social Sciences with his main focus on internationalization. Upon completion of his degree, William will return to the UK and pursue a career in forensic psychology at the University of Kent at a postgraduate level with an eye out for a career in higher education in this field.
| | |
| --- | --- |
| Last modified: | 11 July 2019 12.57 p.m. |