Testimonial Alumni Ambassadors Program
Name: Wiebke Behne
Country: Germany
Program: bachelor International Business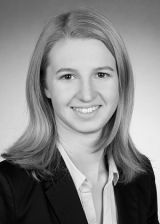 About studying in Groningen
Figuring out what and especially where to study are two important decisions that you have to face in life, even at a young age. Three years ago when I was searching for a university, I was not only considering the international reputation of the institution but also the surroundings of the university, in particular the city and its people. Eventually, I chose the International Business program at the University of Groningen and today I can say that I cannot imagine a better student city than Groningen!

Usually, studying at a high-quality university comes at high costs in terms of tuition fees. However, the University of Groningen offers not only excellent education for a comparably low tuition, but it is also one of the most prestigious universities in Europe. The programs it offers are demanding, the professors engaging and everything is well-organized. The program I chose, International Business, perfectly matched my interests and it allowed me to broaden my horizon by studying abroad, which is an excellent opportunity to challenge yourself. Additionally, the University of Groningen offers many extracurricular activities, such as the Honours College which aims to challenge students to develop themselves further beyond the regular Bachelors or Masters program.

Despite the fact that Groningen is a rather small city, it has all the aspects you could wish from a vibrant student city: an exciting night life, sports, student associations, plenty of shopping opportunities and many students from all over the world. In fact, Groningen is the youngest city in The Netherlands and was ranked 3rd when it comes down to having the happiest people in Europe living there. Originally from Germany, I experienced the people in Groningen as very friendly and open-minded. Recently acknowledged as the World's Cycling City, Groningen is just small enough to reach all parts of the city within 30 minutes with the 'fiets' (Dutch for 'bike'). Without a doubt, I recommend anyone to come to Groningen to study at this wonderful university - I am sure you won't regret it!
Biography
Wiebke Behne, originally from Germany, studies International Business (bachelor) at the University of Groningen. She is a member of the Honors College at the University of Groningen and contributes her time to the University as a teaching assistant at the Faculty of Economics & Business. Wiebke is an enthusiastic traveler, who familiarized herself with various foreign cultures including the United States and Singapore, where she spent a semester abroad at the Singapore Management University (SMU). Since March 2014 Wiebke has been working for the University of Groningen as an international alumni ambassador, representing the university in her home country Germany.
| | |
| --- | --- |
| Last modified: | 11 July 2019 12.57 p.m. |