Testimonial International Alumni Ambassador
Name: Octavia Hutagalung
From: Indonesia
Program: master in Education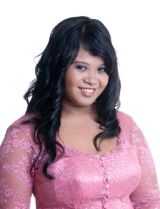 About Studying in Groningen
Studying in Groningen is a dream come true .
Groningen as a city is quiet but alive and beautiful. The well-ordered urban planning and huge green areas here and there, make me always want to stay. The ambience of the city is so peaceful. People are so open and kind. They still love to assist you even though you can't speak any Dutch.
Groningen was actually not my first option to pursue my master degree. Another university in the same country had drawn my attention before I knew about the University of Groningen. Yet life brought me here and I do not regret at all.
As a top 100 University in the world, Groningen has taught me not only lessons in class but also in life. The different study system from Indonesia, however, is the heaviest culture shock that I've ever experienced. Yet, the experiences of learning with the best lecturers and supportive classmates are so valuable. We were always stimulated to come up with our ideas and opinions and together we find solutions for certain situations without any fear of making mistakes. This positive environment changed my way of thinking positively. Moreover, the administration system in the University is also amazingly easy. People are helpful and always well-informed to answer any question regarding study or non-study.
And living in Groningen have also strengthened my lungs and legs as I cycle everywhere through the clean air of Groningen!
All of these reasons motivate me to help people, as an Alumni Ambassador, to make their dream come true as well by studying at the University of Groningen.
Good city + Good life + Good Experience = Groningen.
Biography
Octavia Hutagalung obtained a Bachelor degree in Educational Technology from the State University of Jakarta, Indonesia. She has been working as a civil servant in the Ministry of Home Affairs for three years before she received a scholarship from STUNED in 2013. Thus, she pursued her Master in Education in the University of Groningen through this scholarship program. She is always interested on the design and development of instructional media in education and expected to be the expert of instructional media in education.
| | |
| --- | --- |
| Last modified: | 11 July 2019 12.57 p.m. |