Testimonial International Alumni Ambassador
Name: Lukas Wiese
From : Germany
Program: Bachelor of Arts in International Relations and International Organization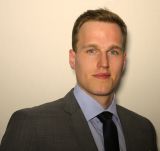 About
studying in Groningen
I chose to study at the Rijksuniversiteit Groningen (RUG) because the BA-program in International Relations and International Organization (BA IR/IO) perfectly matches my academic interests and professional goals.
The BA IR/IO offers the possibility to study interdisciplinary in an international environment by approaching issues in the field of international relations from three perspectives: political, economic and legal. Thus, the program offers an integrated approach that trains the students to look beyond one single specialization and combine insights from various fields of study. Students are also encouraged to develop a personal profile to their study by choosing various optional modules or even a complete minor-program.
Next to acquiring a broad understanding of international relations, students will receive thorough training in a modern foreign language of choice and can even put their newly earned language skills to the test by studying abroad.
Furthermore, the RUG offers its students the possibility to apply academic knowledge and skills in an actual working environment by doing an internship as part of the curriculum.
All in all, the IRIO degree at the RUG is a very challenging but also highly fulfilling program for everyone interested in linking academic knowledge and practical skills in the fields of history, politics, economics and law.
Biography
Originally from Oldenburg in Germany, Lukas Wiese studied International Relations and International Organization at the Rijksuniversiteit Groningen (RUG) and graduated in 2014 with a Bachelor of Arts. Next to the regular curriculum Lukas spent a semester abroad at the Universidad Nacional Autónoma de México (UNAM) in Mexico City where he specialized in Political Communication and International Development Cooperation.
Aside from various academic achievements, Lukas also completed several internships throughout his studies and expanded his knowledge beyond academics by working at the Office of a Member of the European Parliament in Brussels, the Foreign Office of the Konrad-Adenauer-Foundation in Mexico City and the Public Affairs & Regulation-Department of the Dutch gas provider GasTerra in Groningen.
After his graduation from the RUG Lukas will continue his academic career with a Master in Public Policy (MPP) at the Hertie School of Governance in Berlin. In the meantime he is grateful to the University of Groningen for selecting him as the International Alumni Ambassador to Germany and is looking forward to supporting and representing the RUG in Germany as well as sharing his experience with prospective students and advising anyone who has questions about studying at the University of Groningen in the Netherlands.
| | |
| --- | --- |
| Last modified: | 11 July 2019 12.57 p.m. |