Testimonial International Alumni Ambassador
Name: Kumar Sourav Das
Country: India
Program: Topmaster Nanoscience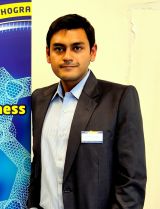 About studying in Groningen
Coming to study in the Netherlands was my first experience abroad. I was amazed how quickly I adapted to the weather here and the general lifestyle. Groningen is a historical city with a sophisticated urban planning, especially making it the best city for biking in the world! More than one-fourth of the population in Groningen are students, many of whom come from different parts of the world. Living in Groningen has truly been an international experience for me which allowed me to interact with people from different countries, learn about their culture and enjoy their delicious cuisine as well. The people in Groningen are friendly and helpful and you can communicate easily with almost anyone in English (that's not so good for learning Dutch though). The city also has excellent sporting facilities offering a plethora of sports courses. From the academic point of view, University of Groningen is ranked amongst the top 100 universities in the world and its excellence is reflected from its rich academic history of 400 years. The master's programme that I pursued, Top master Nanoscience, has been ranked as the best master's degree programme of this country. This study programme is excellent in true terms and has given me the opportunity to interact and work with top researchers in their laboratories with cutting-edge facilities. The Zernike Institute for Advanced Materials of the University of Groningen, where the Nanoscience master's programme is conducted, is ranked among the top 10 material science institutes in the world.
I would like to recommend studying in University of Groningen and living in this beautiful city to anyone who is looking forward to an excellent academic infrastructure along with an amazing social experience in a truly multi-cultural environment.
Biography
Born in Burdwan (India), Kumar completed his schooling in his home town. He was not only fascinated with science since an early age but he also actively participated in several extra-curricular activities in his school. He won the best student of the school title "Master Holy Rock" (2005) and went on to score the best grades in the board examinations of his high school (2007). Thereafter, he got admission in one of the top-most colleges in India, St. Xavier's College, Kolkata, and received his B.Sc. Physics (Honors) degree in 2010. After that he started teaching science and maths in a school for some time before he decided to pursue his higher education. He received an excellent opportunity in 2012 to do his master's in Nanoscience from the University of Groningen with a full scholarship awarded by the Zernike Institute for Advanced Materials. The Nanoscience master's programme is a "top programme" and it is considered to be the best university Master's degree programme in the Netherlands, according to the new Keuzegids Masters 2014 [Higher Education Guide 2014 – Master's programmes]. Kumar completed his Masters in nanoscience with cum laude in August 2014. He is currently pursuing his doctoral studies (PhD) in Physics at the University of Groningen.
| | |
| --- | --- |
| Last modified: | 11 July 2019 12.57 p.m. |