Testimonial International Alumni Ambassador
Name: Jonathan Tavella
Country: Italy
Program : Master Molecular Biology & Biotechnology – Top Master Biomolecular Sciences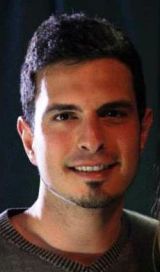 Ab
out studying in Groningen
I chose Groningen because I was searching for an internationally oriented Master, and that is exactly what I found. This city lying in the far North of the Netherlands is often referred to as "something in the middle of nowhere" by Dutch inhabitants of the regions West- and South-Holland. Groningen is indeed surrounded by endless countryside, but what most "Amsterdammers" or "Rotterdammers" are not aware of is, among those rural areas a flourishing city is shining.
Precisely matching my expectations and hopes, Groningen is a meeting place for many different cultures and nationalities, and just living there is an exciting experience. In addition to this, the city always has a lot to offer in terms of fun, cozy bars, parties, cultural activity, sport etc. The size of the city is surprisingly small compared to all the activities that take place there. The compact size, good organization of bicycle paths and good public transportation contribute towards Groningen being the perfect place to spend your academic years.
Also, the University of Groningen attracted me because it appeared to have the best research groups in the Netherlands in the fields of Biochemistry and Chemistry. What surprised me the most was the organization of my Master. There were many courses and projects available, and students were expected to choose these themselves and create a study plan. Alongside this, each student could choose a mentor that would advise them and help throughout the years of participating in this Master. These features push students to develop pro-activity, the ability to plan, develop responsibility and follow a path that they like. Another important feature of my education in Groningen was that great importance was awarded to practical. During my Bachelor in Pisa (Italy), students were required to study entire books and gain as much knowledge as possible before even starting practical work. In Groningen I found myself being thrown directly into action. 'Learn by doing' is the philosophy here, and I have never learned as much within such a short time frame. If my Bachelor taught me to prepare myself the best I could, my Master taught me to deal with situations I was not prepared for and to overcome unexpected problems.
Overall my experience in Groningen, inside the University as well as out of it, formed my character and made me far more confident in my capabilities than I was before. It also made me more pragmatic and efficient. In other words, it represents an invaluable stepping stone in my life.
| | |
| --- | --- |
| Last modified: | 11 July 2019 12.57 p.m. |