Testimonial International Alumni Ambassador
Name: Jiewei Geng
Country: China
Program: Bachelor of Economics and Business Economics (Honours College)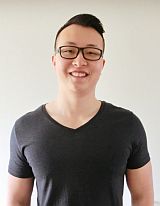 A
bout studying in Groningen
Studying in Groningen was an unforgettable experience in my life. This is no doubt that Groningen is the best city in Netherlands for studying. It has the highest percentage of students (25%) in relation to total population, which results in this city being passionate and vibrant. Moreover, the city is quite international. You can meet different students from all over the world including Germany, England, Korea and Norway etc. In addition, student life here is cosy. In the evening, the city centre is always filled with students. Bars and clubs are open at all times. During the daytime, especially in summer, you can see lots of people sitting on the sidewalks enjoying the beautiful weather and drinking coffee.
Groningen University is one of the top one hundred universities around the world. It was founded in 1614. In Dutch, it is called "Rijksuniversiteit Groningen" which means national university. It is the only "Rijksuniversiteit" in Netherlands. It is famous for its top quality education and research, especially in physics, medicine and economics. The AACSB accreditation ranks the Faculty of Economics and Business among the best 5% of business schools in the world. Moreover, the first president of European Bank W.Duisenberg and the current president of Dutch Bank Klaas Knot both graduated from this faculty. In addition, there are 60 professors working in this faculty and most of them are really famous in academic fields.
I really enjoyed my student life here. Going to Groningen University was one of the biggest choices I have ever made in my life and I do not regret it. I have learned so much from my study program and I made lots of friends here. In the future, I would definitely come to visit this wonderful city again!
Biography
I am Jiewei Geng and my English name is Derek. I come from Yangzhou, China. Over the course of the last year I am studying a bachelor of economics and business economics at University of over the course of the last year. During my study period, I also studied at the Honours College alongside my own bachelors program. Moreover, I achieved Dutch level B2 last year. I will be looking for an internship in the field of economics or finance from February, 2015 and I will start my master in the field of finance or economics from September, 2016.
| | |
| --- | --- |
| Last modified: | 11 July 2019 12.57 p.m. |