Testimonial International Alumni Ambassador
Name: Elisa Herbert
Country: Germany
Program: Master Human Resource Management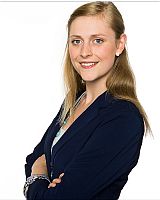 About studying in Groningen
Groningen, the city in the north of the Netherlands is offering Dutch as well as international students a unique possibility to enter the academic world. The old Academic Building in the city centre represents tradition and stability of high-quality academic work and research over the last 400 years. On the other hand, the modern and lively Zernike campus in the north of the city shows you that this university is always up to date.
With its charming atmosphere Groningen gives you a warm welcome and it is easy to feel at home. Your bike is your best friend and you will not only feel fit and healthy soon but also enjoy cycling along one of the canals or through the beautiful parks. You are curious? Do a pub-crawl and find all the hidden little bars to try good beer or wine.
As a German in the Netherlands you have the advantage of understanding the locals quite easy, so do not hesitate to study a bit of Dutch to get into contact with local fellow students. They know the best spots in the city! Yet, don't worry about the language, everybody speaks very good English and from shop assistants to people on the street they are all friendly and helpful.
You can find a room via social media and other networks or you decide for one of the several International Student Houses beforehand. I first stayed at an International Student House and after 5 months moved to a private house.
Although, a lot of Germans study in Groningen, most programs are still full of Dutch and international students. I had the chance to get in contact with them a lot. It is different but fun and you can learn a lot about your own study patterns.
I met a lot of interesting people from all over the world here and I hope some of them stay life-long friends.
Biography
Elisa grew up in Germany and did her Bachelor studies in Psychology there. After graduating she spend one year as an intern at a company in Germany to get more practical insights in the field of Human Resources. With the wish to study her Masters abroad, she applied for the Human Resource Management program in Groningen and successfully graduated in 2014.
| | |
| --- | --- |
| Last modified: | 15 September 2022 2.55 p.m. |