Testimonial International Alumni Ambassador
Name: Diana Gavra
Country: Romania
Program: Master of Laws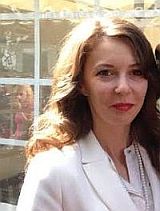 About studying in Groningen
Groningen is amazing! It makes you fall in love with it from the first day.
When making my decision with regards to the choice of my Master Program I must admit that I was a bit hesitant in the beginning due to the fact that Groningen seemed like a rather small city, compared to my hometown. However, after almost a year of living here I can say that it is the best experience of a traditional Dutch city that you can have in the Netherlands. It is not only modern, full of life, culture and a lot of activities and events for students, but it also offers the four most typical Dutch things: windmills, numerous canals, beautiful traditional Dutch houses and at times, sheep. It was a great opportunity to make friends from all over the world and also to contradict the myth that people from the North of Europe are cold and distant. The Dutch are extremely friendly, open-minded and helpful.
As for the quality of education, what I mostly liked about my Master Program was the fact that the student-professor relationship was close and relaxed. There was no unnecessary formalism and they were extremely open and encouraged us to express our own opinion. I also appreciated the practical approach taken in the subjects taught, where theory was being constantly explained through actual examples from practice. Moreover, the overall organising and administrative matters are flawless.
Biography
Diana received her Bachelor Degree in Law Romania, in the heart of Transilvania, Cluj-Napoca. Her first experience as a student abroad was at a Summer University Program in Continental Law in Paris I University organised by the "Fondation pour le Droit Continental." She is currently following the Master Program in International Economic and Business Law. During her studies here, she has been a member of the Nexus International Law Student Association and the Groningen Journal of International Law Events Committee.
| | |
| --- | --- |
| Last modified: | 11 July 2019 12.57 p.m. |