Testimonial International Alumni Ambassador
Name: Alejandra Hernandez
From: Mexico
Program: Top Master Medical and Pharmaceutical Drug Innovation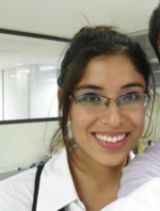 About
studying in Groningen
Studying abroad is always harder than studying in your home country. First, studying in a foreign language is always difficult (even if it is in English). In Groningen, you will have to get used to the accent of Dutch people, the accent of your international classmates and notice how difficult your own accent is for other people. Also, be prepared to be part of a different educational system. The manner of teaching is very different than in Mexico, more critical and interactive during lectures. However, as a science student I was surprised to have way more lab-work experience than Dutch students, perhaps because laboratory regulations are less stringent in my country so I could work in the lab since the beginning of my bachelor. Also, Dutch students are quite young! In Mexico a bachelor takes 4-5 years whereas here it takes only 3! So don't feel uncomfortable if you are the oldest in your class! Another shocking factor for me was that, even if you work hard, you might not get as good of grades as you did in your home country. It is not that you are not good enough, but that the grading is stricter. Be thankful if you get an 8, cry of happiness if you get a 9 and keep dreaming about the 10 that probably won't arrive but will motivate you. I must say however, the quality of education is definitely worth the effort! Finally, missing home always make it more difficult to study abroad. Fortunately, Groningen is full of international students that also miss home! You can create your own new family with your international friends or even enjoy the hospitality of the families of your Dutch friends!
What you should first realize about Groningen is that all Dutch cities are small! The whole of the Netherlands has less people than Mexico city. However, when it is snowing, even little Groningen will seem endless once you have to cycle through it. Did I say cycling when snowing? Yes, I did! So far I haven't found a single situation in which Dutch people don't cycle. Most of the time though, cycling is an awesome experience in this city! Don't be surprised if an 8-year-old child cycles better than you, if a grandma overtakes you, if the couple in front of you kiss while cycling, if Dutch people don't lose balance with all their groceries and even if mothers are carrying one (or more) children on their bikes. Would you believe it if I told you that I moved all my furniture in a bakfiets (a bike meant to carry stuff)? All I can say is: get involved in Dutch culture! Bring cake for others if it is your birthday, and don't be surprised if the Dutch people that are usually reluctant for any physical contact come to congratulate you with three (not one! But three!) kisses. Benefit all you can from contact with internationally-recognized researchers and a high-educational system. Eat stampot … and snert… and oliebollen… and stroopwaffels… and any Dutch snack/dish (except dropjes)! Make Dutch friends! Groningen is the perfect place for meeting new people considering all the students it has. Wear orange clothes during football matches (especially when playing against Germany) and during King's day! Go to music festivals, wait for Sinterklaas at the harbor, follow speed-skating in the Olympic games, learn the meaning of "gezellig" AND LIVE IT! In sum, exploit your experience as much as you can. I did it and I don't regret it at all! I was born in Mexico but after two years here I can say that Groningen is also my home city!
Biography
Alejandra Hernandez Segura was born and raised in Puebla, Mexico. She obtained her bachelor degree in Clinical Biochemistry with Magna cum laude at the Universidad de las Americas Puebla. During the last years of her bachelor, she worked as an analyst's assistant in a clinical laboratory and taught Biology in two high-schools. She did two internships in different research labs in Mexico (Cardiovascular diseases and Biotechnology) and one at the University of Groningen (Clinical Pharmacology). In 2011, she participated as a teacher's assistant in a summer camp organized by the Center for Talented Youth of the Johns Hopkins University (United States). She moved to the Netherlands in 2012 to pursue a top master program in "Medical and Pharmaceutical Drug Innovation". During the master, she did two internships in two very prestigious laboratories at the University of Groningen (European Research Institute for the Biology of Aging (ERIBA) and Human Genetics).
| | |
| --- | --- |
| Last modified: | 11 July 2019 12.57 p.m. |