Tobias Behre, international alumni ambassador 2013-2014, USA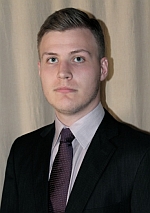 Location: USA
Contact: tobias.behre@gmail.com
About Studying in Groningen
Figuring out what one wants to do in life is a phase that practically everybody goes through at one point or another. While I was in high school, about two years before I graduated, I knew I wanted to study business. Having decided what I wanted to study, I still needed to decide where I wanted to do so. I ended up in Groningen due to a chain of events that was set in motion at a study fair that my high school hosted. There, studying in the Netherlands was being advertised and I became fascinated by this option. After the fair the following things happened: I started researching, eventually stumbled upon the University of Groningen, attended an open day, fell immediately in love with the city, applied and eventually enrolled in the BSc International Business; a program which perfectly matched my interests.
This all has been quite some time ago and now, having recently graduated, I can conclude that studying in Groningen was an utterly great decision. Three years in Groningen have helped me enormously from an educational standpoint, but they also helped me grow as a person. The curriculum is demanding and thought-out, the professors are engaging and the programs are well-organized. I can say, without hesitation, that the University of Groningen is rightfully placed among the most prestigious universities in Europe. My program also allowed me to broaden my horizon by studying abroad, which I consider to be another great plus, especially given the program's international context. I spent an amazing semester in Canada at Queen's University.
Groningen itself is a city full of opportunities, a great place for everyone, but especially students. The presence of higher education in Groningen is very noticeable; the city's population is very young and international. Consequently, Groningen is ideally suited for the needs of the prevalent demographic, students: it has a fantastic nightlife, countless bars and cafes, bookstores and a lot of offers specifically tailored to students.
For me it is time to move on, but I am looking back on a phenomenal three years in Groningen. If you are reading this, you are probably considering studying in Groningen and you should! Why? The short answer to that question is that Groningen truly is a "City of Talent" as the city's slogan proclaims. I can assure you, deciding to study here is an absolutely great decision!
Biography
Tobias Behre recently graduated from the RUG with a BSc in International Business (cum laude), as part of which he also spent an exchange semester at Queen's University. During his studies he worked for the University as a teaching assistant for a number of classes and as a mentor for incoming freshmen. Tobias is currently pursuing a Master of International Business at Hult International Business School in San Francisco.
| | |
| --- | --- |
| Last modified: | 11 July 2019 12.56 p.m. |