Sebastiaan Lambooy, international alumni ambassador 2013-2014, Australia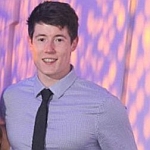 Home country : Australia
Program : International Bachelor of Medicine
Contact: internationalalumni rug.nl
About studying in Groningen
Originally from Australia, I was very lucky to have been given the opportunity to study medicine abroad at the University of Groningen. Even though I did not know what to expect, I must say that my experience living in Groningen up until now has been nothing short of amazing.The faculty of medical sciences is a highly resourceful department and full of endless possibilities to broaden your horizons. A major difference between the University of Groningen and other universities is that the gap between students and teachers/professors is smaller, allowing you to contact them more freely if ever you have questions. Due to this, it was easy for me to visit a number of medical departments to follow doctors around or to witness interesting surgical procedures.
As a native English speaker, I was pleasantly surprised about the level of English spoken not only by professors/teachers, but also by the majority of people I came across (even though this can make learning Dutch a challenge). It definitely keeps your English in check!
The city of Groningen is a spectacular student city with something for everybody, whether it be studying in the library from dawn to dusk, getting fit at the Netherlands largest sporting association or staying up till the sun comes up with the cities 'no-closing-time' night life. Cycling is definitely a must in the city of Groningen and a great (and only) way to get around, not to mention great for your health!
Biography
After graduating from the IBMG (International Bachelor of Medicine, Groningen) (BA), Sebastiaan is now continuing with his clinical phase in medicine (MA) at the University of Groningen. During his bachelor, he completed a number of research projects in the medical faculties Junior Scientific Master Class program, allowing him to graduate with honours. In his spare time he now works at the faculty of medicine as a student assistant and as ambassador for both the IBMG and for the university's alumni.
| | |
| --- | --- |
| Last modified: | 14 February 2020 10.28 a.m. |