Ruxandra Nagy, international alumni ambassador 2013-2014, Romania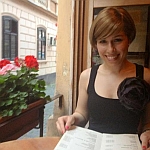 Home country : Romania
Program : International Bachelor of Medicine, Profile Global Health
Contact: sandra.nagy yahoo.com
About studying in Groningen
Studying in Groningen is a delightful experience: prestigious academic life, international atmosphere and the chance to experience an authentic student life. Although getting accustomed to 'local tradition' (good old bike for getting around, shops closed on Monday and Dutch weather) might prove difficult for some, after some time you learn that 'er gaat niets boven Groningen!' (there is nothing better than Groningen). This is also how my story started when three years ago I left Romania to follow my dream: study abroad at a top university with the aim of becoming a clinician-researcher. The University of Groningen has given me an excellent start towards that dream: high-quality education, insight into cutting-edge research, international contacts and a second place that I can call 'home'.
Biography
Ruxandra Nagy was born and raised in Brasov, Romania. After graduating high school, she moved to the Netherlands to study medicine at the University of Groningen. In 2013 she obtained her Bachelor of Science after successfully completing the International Bachelor of Medicine, profile Global Health, and her Honours Degree in Science after following the courses offered by the Junior Scientific Masterclass. During her years of study, Ruxandra has been actively involved in research in the fields of cardiovascular regenerative medicine and reproductive medicine, and strives to continue developing as a researcher in parallel to her clinical training. She has attended several research schools and, as a former member of the International Bachelor Representation committee, has organized activities for the medical faculty such as a symposium for medical students in Oldenburg, Germany. She has been accepted for the study program Master of Medicine offered by the University of Groningen and will continue her studies in order to obtain the M.D.
| | |
| --- | --- |
| Last modified: | 11 July 2019 12.56 p.m. |