Mina Netkova, international alumni ambassador 2013-2014, Macedonia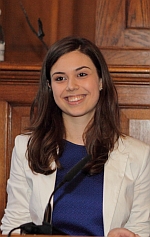 Home country : Macedonia
Program : International Bachelor of Medicine (Global Health Profile)
Contact: minanetkova@yahoo.com
About studying in Groningen
Studying in Groningen is a life-broadening experience in so many aspects; from offering a high-quality education and being the cradle of some ground-breaking research, up to giving students the chance to enjoy real student life, finding out more about the culture and history of the Netherlands, going all the way to giving people the chance to do what they love in their free time, from sports to developing their talents. Recently acknowledged as the World's Cycling City and according to the European Commission, being the 3rd top city where the happiest people in Europe live, Groningen has something for all its citizens. From dusk till dawn, from university lectures with Nobel Prize winners to party podiums with top world DJs, Groningen lives and breathes with its students. On the other hand, being part of the University of Groningen gave me the possibility to get involved in current affairs, make a change that would matter, and get an opportunity to work on joined international projects, such as my Bachelor thesis research at the University of Cambridge, UK. Coming to Groningen opened so many doors for me, and I want to be able to bring this message across to more people around the world, so if you have any questions, please don't hesitate to contact me. I believe that hearing my story would motivate and encourage you, to spend time at an institution like the RUG in a vibrant city like Groningen.
Biography
Mina Netkova is originally from Skopje, Macedonia, and this year she graduated with a Bachelor's degree in Medicine, Global Health profile and an Honours degree for following the special Junior Scientific Masterclass track. She got the opportunity to study at the RUG by receiving a scholarship from the Ministry of Education and Sciences in Macedonia, and before coming here she graduated as a Valedictorian from her international high school. Mina is also an honorary citizen of the city of Skopje, due to her remarkable achievements in education.
Besides her studies, she has been passionately involved in research in the University Medical Centre Groningen, in the departments of Psychiatry, Anaesthesiology and Neonatology where last autumn, she conducted a joined research for her Bachelor thesis at the University of Cambridge. She is actively engaged in organizing the annual medical symposium and has been part of various non-governmental organizations. This September, she continued her Master's studies in Medicine in Groningen, with a research internship at the department of Anaesthesiology/ Neurophysiology.
| | |
| --- | --- |
| Last modified: | 11 July 2019 12.56 p.m. |