Luke Cox, international alumni ambassador 2013-2014, United Kingdom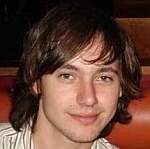 Home Country: United Kingdom
Programme: MSc Biomedical Sciences, Faculty of Mathematics and Natural Sciences
Moving to the Netherlands
Studying in abroad isn't one of the most common choices made by UK students. I mean we're often regarded as being that Eurosceptic bunch just off the coast of France right? However, does a little bit of water really make that much of a difference? I thought not and decided to leave my beloved island and hop over the channel to come and study in the Netherlands. Why the Netherlands? Well, apart from many courses being taught in English (lazy I hear you say!), Dutch universities are highly ranked across the world and offer good quality education for a much more reasonable price compared to the UK. Furthermore, master's degrees in science are typically two years long compared to the one year in the UK, providing me with more laboratory experience and the chance to truly become an 'international scientist'.
Why Groningen?
Apart from Groningen being regarded as one of the best student cities in the Netherlands due to its "gezellig" (cosy/quaint) atmosphere, the city and University of Groningen welcome international students with open arms. For this reason, I decided that Groningen was for me. Of course, the study program was also important, and indeed the University of Groningen ranks high in medical science research. However, ultimately, it was the ease of application and welcoming attitude of the admission officers and city that encouraged me to apply. In addition, housing in Groningen is easy to find. During my first year I had the great experience of living with people from all over the world in an international student house and now live in student accommodation with Dutch friends.
Studying at the University of Groningen
Teaching at the university is excellent and comparable to my experiences in the UK. Of course, the style of education did take some getting used to since the 1-10 grading system and a reduction in the amount of feedback compared to the UK can be quite confusing. However, study mentors and lecturers are always willing to help if you ask them. Since beginning my masters in Biomedical Sciences I have developed a strong interest in immunology and now have a network of colleagues which will help me forge a research career in this competitive field.
If you're up for a challenging, but exciting study experience, I strongly suggest you apply to study in Groningen. I've had the best time of my life here and want people to experience the same. So take the plunge, I promise you won't regret it!
Biography
Luke Cox is from the United Kingdom and moved to Groningen to pursue a graduate program in Biomedical Sciences, at the Faculty of Mathematics and Natural Sciences. This fall he relocates back to the UK to pursue work in his field with an eye out for a possible return to academia.
| | |
| --- | --- |
| Last modified: | 11 July 2019 12.55 p.m. |