Frederik Wermser, international alumni ambassador 2013-2014, Germany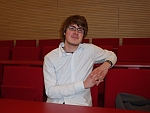 Country: Germany
Program: BA Psychology
Contact: frederik@wermser.de
About Studying in Groningen
Groningen is a special place: It is small and big at the same time. It is buzzing and yet relaxed. It is international but also very local. In short, for me Groningen is the prototype of a student city.
What I like most about Groningen is that it combines the advantages of a big city with those of a small one. Using the ever present Oma-Fiets (the common Dutch bike) I can reach even the most remote corner of the Groningen within 30 minutes. However, when going out or looking for cultural events I always feel like being in a city many times the actual size of Groningen. Especially the numerous (mostly free) festivals throughout the year add a lot to the atmosphere.
Groningen is surrounded by nature and traversed by green areas. I often feel that reflects on the people, most of them are really relaxed. And if I want to become as relaxed as they are, I hang out with some friends in the Noorderplantsoen (the city's main park) or visit one of the many bars and cafes that are spread all over the city. Yet, when I want to get going and do some activities there are just as many possibilities, plenty of them offered by the University. I have participated in a number of these activities, in some more successful than in others. Most of all it is about trying different things, from various sports to cultural activities to interesting guest lectures and symposia.
Of course, student life is also about academics. I honestly do enjoy studying at the University of Groningen. Especially students that are willing to go the extra mile can profit a lot from the university's extracurricular offers and the extensive research activities. At this stage I got to notice how international Groningen and its University are. The university's numerous research activities attract staff and students from many different countries, which creates a special international atmosphere. However, the Dutch roots of the University are as omnipresent as the international influence, a combination resulting in a unique experience.
Biography
Frederik Wermser grew up in Germany in the city of Braunschweig. In 2013 he acquired his Bachelor of Science in Psychology with cum laude at the University of Groningen. Next to the regular program he graduated from the Honours College of the University of Groningen. During the third year of his study Frederik spent a semester abroad at the Middle East Technical University in Ankara, Turkey. Since 2013 he is a reviewer for the Honours Review, a peer reviewed journal published by Honours College students of the University of Groningen. Currently, Frederik is doing a Research Master Behavioural and Social Sciences at the University of Groningen in the field of Social Psychology.
| | |
| --- | --- |
| Last modified: | 11 July 2019 12.55 p.m. |