Denitsa Anastasova, international alumni ambassador 2013-2014, Bulgaria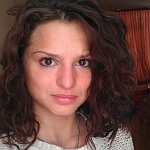 Home country: Bulgaria
Program: Bachelor of International Relations and International Organizations
Contact: deni_anastasova@abv.bg
About studying in Groningen
High quality education abroad usually comes at a high cost. This often becomes an obstacle to many students to study abroad. Similarly, I thought I will never be able to study somewhere outside Bulgaria. Well, the University of Groningen and the city itself allowed me to follow a complete 3 year BA program. The BA gives you the chance to follow courses in Economics, Trade, Politics, Languages and Philosophy. The latter are intertwined with Negotiations, European Law, International Finances, so that you are given various possibilities or fields that may capture your interest.
Let`s face it one main priority of a student is to find accommodation that is not too far from school. We all know about the rainy Dutch mornings that really can make you lazy and hold you in bed. The best thing about this city is that even if you live at the end of the city-center, you will probably have to bike for not more than 30minutes.
Many Bulgarians will ask me how I paid for this study. Well, it was not easy but if you are eager to study, and work you can do this. I worked from the moment I arrived and was able to get a Dutch Work Permit. This enabled me to obtain a Dutch Study finance, but you will need to forget about the family Christmas for a while, because you need to make 8 hours a week in order to keep the scholarship going. However, working made me even more organized, more motivated and I can advise you on how to apply for the documents you need. But, remember that as from 2014, work permits will no longer be needed. I advise you to take a Dutch language course if you plan on working.
Well, the reality is that you need to find your passion and find your way through it. After graduation, I moved back to Bulgaria, and I currently work for the biggest producers of computers, Hewlett-Packard. I am working on a project called Syngenta – as a technical support for one of the oldest companies that produces seeds and genetically modified crops.
| | |
| --- | --- |
| Last modified: | 11 July 2019 12.56 p.m. |