Andres Tello, international alumni ambassador 2013-2014, Ecuador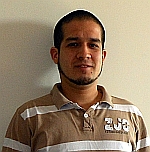 Home country: Ecuador
Program: M.Sc. in Computer Science
Contact: andres.tellog gmail.com
About Studying in Groningen
Studying in Groningen is an experience that will change your life. It is challenging, especially for people from a totally different culture, but it is definitely worth it. The University of Groningen is among the top hundred universities of the world. It offers you a high quality education. Professors combine theory and practice, which gives you the knowledge and skills to start your professional career.
In addition, the University of Groningen offers other activities such as art, culture, a variety of sports, among others. There are many students' associations which organize different activities along the year. They give you the chance to share your spare time with other students with different backgrounds and cultures. This is the moment when you make your lifetime friends, extend your perspectives and open your mind. All these things together will contribute to an integral education.
On the other hand, Groningen is a cozy city. It is small but it offers all the facilities to its citizens. Besides, Groningen is really international, one quarter of its population is composed by students from all over the world. Since in Groningen Dutch people are used to live in such an international environment, they are very friendly and polite with foreigners.
Furthermore, if you want to experience how cool is to move around only by bike, then Groningen is the place to be. You will be surprised when you start thinking of distance in terms of minutes by bike instead of kilometers or miles.
All these facts make Groningen a great place to study and live in. I highly recommend Groningen to anyone who wants to study abroad. It will surprise you in the best way you can imagine.
Biography
I am Andres Tello. I was born and raised in Ecuador. I obtained my Bachelor degree in Systems Engineering in my home country. After my bachelor, I worked in different software development companies. In 2009, I joined the software developer's team of the University of Cuenca. One of my dreams was to study abroad, and after getting a scholarship from the Ecuadorian Government, I moved to Groningen, the Netherlands, to pursue my Master Degree in Software Engineering and Distributed Systems. At this moment I am working on my graduation project and I expect to finish in February 2014.
| | |
| --- | --- |
| Last modified: | 11 July 2019 12.56 p.m. |