Teshome Desta Kanko, international alumni ambassador 2012-2013, Ethiopia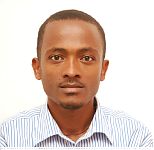 Name: Teshome Desta Kanko
Home country: Ethiopia
Programme: MSc Population Studies in Population Research
Scholarship: Nuffic scholarship award by the Netherlands Fellowship Program
Contact: teshdes yahoo.com
It is a good academic and research center where theory and practice meet, there is only a thin boundary between the teachers and the students.
About stuying in Groningen
I chose to study at RUG for the following main reasons: its international nature, it is among the oldest and most experienced university in Europe and the world, gives lots of scholarship opportunities to students from developing countries like Ethiopia, it is a good academic and research center where theory and practice meet, there is only a thin boundary between the teachers and the students (the professors are very friendly, easily approachable).
The following are things I liked most from this program: the way of teaching; more practical/laboratory, linking theory with existing situations and research findings, visiting some places (like Central Bureau of Statistics, The Hague) and our participation in Dutch Demography Day hosted by Utrecht University. I gained skills such as model building and interpretation of the outcomes of models, Thorough literature reviewing, publishing in journals, and how to add values to the development process of a given society.
The differences in the educational system in my country and the education system in Groningen are the Grading system (A, B, C system in my country), the way of teaching-communication: mainly via Nestor, high expectation from the student (independent learning), one year MSc in RUG where as it is 2 years in my country.
The things I liked the most in the city of Groningen are the people: more cooperative to help others, respecting privacy, no discrimination and no racist approach to foreigners and it being a student city: we can find affordable things for students like shops and it being a bicycle friendly city. Living with international students from different cultures, sharing experiences and making new friendships are what I enjoyed most from the university. Most of the Dutch people speak and communicate well in English.
I advise my fellow Ethiopians wanting to study in RUG that it is a university of excellence with an international reputation. It is a place to cultivate knowledge and skills required for a global world. Moreover, the city is a student city and hence students will find it easy to live in.
Biography
Teshome Desta Kanko obtained B.A degree in Geography (2002) from Bahir Dar University and MSc Demography (2010) from Addis Ababa University of Ethiopia. From 2002 to 2006, he worked as a secondary school geography teacher in two NGO schools (Comboni and SOS) located in Awassa, Ethiopia. He studied MSc Population Studies in Population Research Center of the University of Groningen from Sept 2011 to Aug. 2012. Since November 2006 he became a Lecturer at the Geography department of Wolaita Sodo University, Ethiopia. His research interests include migration, urbanization, population pressure, environment and development. He is a fan of soccer and enjoys reading, swimming and music.
| | |
| --- | --- |
| Last modified: | 11 July 2019 12.57 p.m. |