Arne Nowak, international alumni ambassador 2012-2013, Germany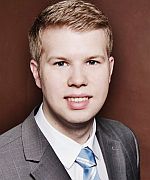 Name: Arne Nowak
Home country: Germany
Programme: Bachelor of Science, Int. Economics and Business
The highlight of my program was the semester abroad. Studying in Hong Kong was the greatest experience of my life. During those 5 months in Asia I managed to gain professional experience and learned a lot about myself.
About studying in Groningen
I chose the University of Groningen because the program perfectly matched my interests and offered me the opportunity to build up economic principles necessary to pursue a career in the financial industry. Furthermore, the RUG is known for its combination of high class education on an elite level and a personal atmosphere.
The highlight of my program was the semester abroad. Studying in Hong Kong was the greatest experience of my life. During those 5 months in Asia I managed to gain professional experience and learned a lot about myself. Additionally, I appreciate the opportunity to pursue a second (honors) degree parallel to my studies. It provided the basis to compete with the smartest minds on the campus which definitely increased my self-confidence.
I surely gained many different skills and increased my knowledge in economics and finance. However, what I gained most and what I am really grateful for are my research and English skills. These are skills that can be attributed to the great IE&B program. It has been proven for me twofold already: once during my internship in the capital markets department of a bank and once during my master program. I realize how easy it is for me to consume and understand all kinds of knowledge very fast and without problems.
I often compare the city of Groningen to a big high-school. You have the feeling that you are only surrounded by your friends and fellow students. Shops, bars, gyms, etc… everything is close proximity to your home. You can have a good time daily and people are nice no matter where you go. The urban architecture surely contributes its part since the small center surrounded by canals really concentrates the pulse of life around the Grote Markt. What I like about it? It´s like a perfect city made meeting people, flourishing personally, spilling knowledge and ideas without friction of any kind. In short a city made for students.
Groningen creates an atmosphere that makes you feel at home and abroad at the same time. People are open and direct, which makes communicating very easy. You know from the beginning who you are dealing with and no one is pretentious. Personally, this is something I took home to spread around. Status doesn't seems to be important – or not as much as in my home or in other countries that I have been to which is very positive. On the downside – being extremely direct and open may cause some issues of disrespect such as coming late or talking in class which I do not appreciate.
Besides being ranked among the top universities all over the world, Groningen gives you an experience you will never forget. I think that Groningen is a first good stepping stone into a life time of internationality for people from Europe and a rewarding experience for everyone who comes from overseas and dares to step into the big world. You will be welcomed with a level of friendliness and support that will help you to get used to the situation in a heartbeat. I consider this to be a valid statement because there are many places to go to when you decide to expand your horizon geographically, culturally and professionally – but there are few places that offer the whole package. Groningen offers you an education that prepares you for a sustainable career, a far reaching network due to its multi-nationality, opportunities to travel even more, people and friends that guarantee you the time of your life and an environment that makes you feel like being at home. So if you are considering studying at the University of Groningen – don't wait! Apply! Groningen is a lifetime opportunity that you will never forget.
Biography
Originally from Germany, Arne Nowak studied a Bachelor of Science in International Economics and Business at the University of Groningen with a foreign minor in financial services at the Polytechnic University of Hong Kong. Arne was awarded "Freshman of the Year" after his first year and was nominated for the Groningen University Fund (GUF) after his second year. Furthermore, he graduated from his overall program with the distinction cum laude. Besides numerous academic achievements, he graduated from the University of Groningen Honors College and served the University as teaching assistant, mentor, year representative and member of the HC program committee. Arne is an enthusiastic traveller who familiarized himself with a fair amount of foreign cultures while exploring Europe, parts of Asia and the United States. Currently, Arne is pursuing a double degree program (M.Sc. Finance & Investments / M.Sc. Money, Banking & Finance) in at the International School of Management (ISM) in Germany in cooperation with the Lancaster University Business School (LUMS) in England.
| | |
| --- | --- |
| Last modified: | 11 July 2019 12.57 p.m. |