Yana Heussen, international alumni ambassador 2011-2012, Germany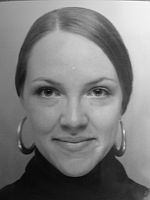 Name: Yana Heussen
Home country: Germany
Programme: Behavioral and Cognitive Neuroscience, Faculty of Mathematic and Natural Sciences
Scholarship: Top Programme Scholarship, Faculty of Mathematic and Natural Sciences
" I am very impressed by the extent of support the RUG lets its students enjoy in terms of teaching, scholars, quality and variety of studies and social networking offers."
About studying in Groningen
I chose Groningen due to the truly interdisciplinary Master of Behavioural and Cognitive Neuroscience.
I have been very impressed by the extent of support the RUG lets its students enjoy in terms of teaching scholars, quality and variety of studies and social networking offers.
What were the things you liked the most of the student life in Groningen?
To live with other students in a student house was a very beautiful experience. To have sparring partners in this new environment was priceless!
What is your opinion about the international office of your faculty and/or the University of Groningen?
Amazingly kind and helpful people! I loved the biking in the city : )
What advice would you give to students from you country of origin that are considering to study at the University of Groningen?
It's absolutely a thriving and beautiful experience I would always do again.
Biography
Yana Heussen studied Sociology in Berlin, Germany, and continued with Behavioural and Cognitive Neuroscience at the University of Groningen. Right now she is working on her PhD in Neuroscience back in Berlin. Since April 2011 she is an international alumni ambassador for the University of Groningen. She always has a good idea how to improve your work-life balance and is happy to help you with any further question regarding the experience of studying in Groningen.
| | |
| --- | --- |
| Laatst gewijzigd: | 22 juli 2021 11:43 |